MONTH IN REVIEW IS A MONTHLY FEATURE HERE AT JOSIE'S BOOK CORNER WHERE I GIVE YOU A LITTLE REWIND OF ALL THE HAPPENINGS OF THE MONTH AND THE THINGS I'VE LOVED.
I just realised that last month, I missed out on this monthly review post! But this month I remembered. It's the

end of November

and I'm sitting here thinking where the time has gone! It's as though the

wind just blew the days away

as easily as it would blow away paper.
This month has been a fantastic month, full of amazing moments within my life and within my blogging life too and I am more than excited to share my month with you! So let's do this.
---
November has been a fabulous time for my life, and I've pretty much been on a high for the entire month.
Firstly, I finally graduated from high school and stepped into the real world! It's absolutely exciting, not only knowing that I never have to do extremely stressful exams anymore, but also because it means I have more time to read, and work and earn money and all that fun stuff that comes with being an adult (even though I'm still only seventeen). 
I've been going out a lot this month, since I've been released from my school life, and I've had an amazing time connecting with my friends. One of the best things is that I haven't drifted away from many of my friends since graduating. It's something that I feared would happen, but I'm relieved to say, my fears did not come to pass. 
I went to my first ever wedding this month, in fact, on Saturday! (Which is why my Spotlight Saturday post didn't go up, I apologize for that!) Weddings are probably my favourite events ever now. They make me feel so warm and fuzzy inside, and, they give me a reason to dress up (because you all know how much I love to do that). 
This month I am so happy to see my "Thursday Ramblings: Sex In Novels" post being the most popular post among you guys this month. I am overjoyed about the response all of you bookworms gave me towards it and I, weirdly, loved your long comments, especially the ones that could be called 'essay comments'! 
I was going to say my 'Sex in Novels' post was my favourite to write, but let's not be repetitive here – I think this month I really enjoyed writing my Monday Musings post in which I talked about 'The Beauty of Being an Organised Human'. 
You all know I have a gigantic slight obsession with organisation, planning and stationary, so writing this post gave me extreme joy, because I was sharing something that I was passionate about and getting some of you into the act of being organised in a fun, artistic way.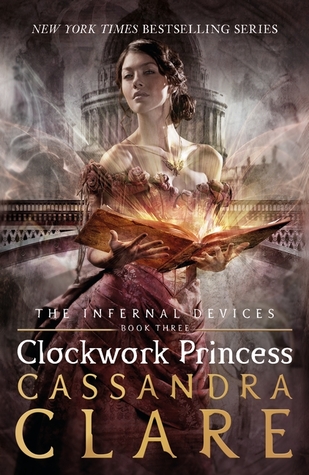 Hands down this month my featured book has to be Clockwork Princess by Cassandra Clare. The Shock of the Fall by Nathan Filer came so close to being my favourite this month, but nothing can take away the feels that Clockwork Princess gave me. It had me crying my eyes out and put me through the best and worst feelings ever. 
The cover for This is Where the World Ends by Amy Zhang is absolutely beautiful! I love the colour scheme which is simplistic, and the use of the feathers and curving letters in the background which give a whimsical feel to the entire cover of this novel! I hope I get to read this one soon. 

"Mental illness turns people inwards. That's what I reckon. It keeps us forever trapped by the pain of our own minds, in the same way that the pain of a broken leg or a cut thumb will grab your attention, holding it so tightly that your good leg or your good thumb seem to cease to exist."
This quote is honestly beautiful and pretty much spot on with the concept of mental illness. 
Hillsong came out with a new album filled with amazing worship songs. This album has been on repeat basically all month for me. It's amazing and every single one of the songs on this album is perfection. They're deep and powerful and I could sit for hours just listening to this album. 
I have never been a fan of Justin Bieber until I listened to his new album, Purpose. All of the songs in this new album of his are honestly so great. They all have great lyrics and I can genuinely say I enjoy listening to them over and over again. I wouldn't say I'm obsessed, because his music is starting to get over-played all over the radio, but I do enjoy his new songs very much. And a bonus is HE FEATURES HALSEY IN ONE OF HIS SONGS. YES YES YES. 
Troye Sivan came out with two new songs for his Blue Neighbourhood album: Talk Me Down and Youth and I am honestly obsessed with these songs. They're electronic with deep beats and I just can't get enough of them. I have yet to get sick of replaying these songs. 
I have been obsessed with bullet journaling this month, and have fully invested myself in committing to a bullet journal as my form on organisation and planning my life.
I have also been obsessed with scrolling through Sarah J Maas's Pinterest, showing all the Throne of Glass fan art. My goodness. Just look at this amazing fan art of Rowan… I can't even handle my feelings right now. AH. 
I don't watch much, I never watch actual TV and I hardly ever watch TV shows on Netflix (which is such a waste for my subscription, but hey!) but this month I rewatched the Lord of the Rings movies because it's something I do multiple times a year. And of course, the movies are just as amazing the hundredth time, as the first! 
---
And that is all for this month's review! I hope you enjoyed it! 
What was your November like?