Sisterhood of the World Bloggers Award
Hello bookworms and welcome back to Josie's Book Corner! Featuring on my blog today, as you may have already guessed, is

another award post

! I was tagged by a number of bloggers to do this award and these bloggers are ones that I urge you to check out! Right now!

Click their names to go to their blog pages

!

I will be answering all their questions today, so get ready to learn a lot about me! And

thank you Raven, Maria and Amanda

, for being so amazing and nominating me, giving me these questions to answer. I hope all you bookworms enjoy this. . .
---
Raven's Questions:
1. Who is your favorite person in the world except your parents and why?
Oh gosh, my favourite person in the world… That's a tough one. I love so many people, so I cannot decide who to pick for this question! It's just too unfair to pick a favourite person! That's like asking me to pick my favourite book. IT'S NOT GOING TO HAPPEN!
2.Your favorite holiday spot?
So far in my life, I have only travelled to two places: Malaysia and England. In fact, those two places are the two halves of my ethnic background! I am half Malaysian and half British! But I think my favourite holiday spot would have to be England, specifically the place where I stayed the last time I visited. That was years ago, but we stayed in this lovely home, a bed and breakfast-type of place which was gorgeous! I cannot get enough of the UK.
3.Besides reading what do you like to do most?
I love to write. I think many of you know that as one of my obvious hobbies. I like all types of writing. I love writing essays for school – even if it gets tedious, and I love writing fiction of course! 
4.How's your blogging experience up until now?
It's been absolutely phenomenal! I've met so many amazing people and discovered a new side of myself! The best part about blogging for me is that it's the first hobby I've found that I've actually stuck to and not drifted away from. It's all thanks to all of you bookworms supporting me!
5.Name three of your most highly anticipating books which isn't published yet?
Oh gosh, here we go. I'll have to scour my mind for this one! Actually no, three just popped into my head. The first is the most obvious one that I'm sure many of you saw coming: QUEEN OF SHADOWS BY SARAH J MAAS! I already pre-ordered it but I saw on Twitter that some people have it already – commence sobbing like a spoilt child.
The next is The Copper Gauntlet by Holly Black and Cassandra Clare. I loved The Iron Trials and the end intrigued me so much that when I realised there was a second book that was coming out, I screamed with excitement!
Lastly, Glass Sword by Victoria Aveyard. I enjoyed Red Queen and not only does the cover for the sequel look AMAZING, I need to know what happens next! 
6.Who is your favorite music artist and also name any three tracks you would recommend from the artist?
I'm sorry, but I hate getting asked questions like this when it comes to music. I'm horrible at these questions!
7.Describe any one of your happiest moment in your life?
I must have some form of memory loss because no matter how hard I try to conjure up a good memory, my mind remains blank! 
8.What do you hate the most?
Spiders. How could this world give birth to such a thing?
9.What's your favorite food?
Curry all the way, baby!
10.Why do you blog?
I blog because it's one of the ways I can express my feelings and thoughts in away I would normally not be able to in real life. I blog to connect with the people who have similar interests as me! 
---
Maria's Questions:
What made you decide to start book blogging?
Because I needed an outlet to talk and ramble on about my thoughts and musings about all things books and blogging was definitely the way to go! 
Do you prefer paperbacks, hardcovers or ebooks?
I love  all three! However, I love them for different reasons. I love paperbacks because they are significantly cheaper than hardbacks. I love hardbacks because they are so much more sturdy and lovely to hold than paperbacks – it feels like I'm holding gold when I hold hardbacks. And I love ebooks because they are incredibly cheap, and portable!
What is your favourite book to movie adaptation?
So far I have watched a few book to movie adaptations, The Hunger Games, Divergent, The Fault In Our Stars, The Hobbit, The Lord of the Rings. Out of all of those, I'd have to say that The Lord of the Rings and The Hobbit are the kings of book to movie adaptations. Especially Lord of the Rings. The Lord of the Rings movies were literally my childhood, hence why I'm a huge fantasy fan as of now. 
What is your favourite book that you have read so far this year?
THE THRONE OF GLASS SERIES. Gosh that book gives me all the feels! AND AND AND The Heroes of Olympus series! Being the first series I read during this year, I fell totally in love with it. Rick Riordan and Sarah J Maas, this year you are probably my favourite authors. But there are so many to choose from!
What is one book that you would love to see turned into a movie or television show?
The Throne of Glass series. I need it to be turned into a movie, or a TV show. Make it a 5 hour long movie, I don't care, I just want the book adapted PERFECTLY onto the screen. No compromises, just completely off the book. No cutting scenes, no nothing. Just the book in movie/TV show version. 
If you could meet any author, dead or alive, who would it be?
J.R.R Tolkien. Hands down, that will be all folks. 
Do you read Graphic Novels? If so which ones are your favourite?
I want to read graphic novels! So far I have only read one, but they are fantastic and such fun little breaks in between books! I really want to read Saga.
What is your most anticipated read for the second half of 2015?
QUEEN. OF. SHADOWS. 
What is your favourite childhood picture book/short story/novel?
Hm… I can't remember much from my childhood, nor can I remember the books I read. I do remember reading a ton of fairytale picture books though.
If you could bring one fictional character to life, who would it be?
Oh gosh, too many choices!!! Celaena, Leo Valdez, and so many more! I want them all to come to life! (Maybe not the psycho crazy ones). 
---
Amanda's Questions:
What is your favorite childhood book (and memory to go with it)?
I can remember reading and loving The Hobbit as a young child. I loved it so much, thanks to the teacher who gave it to me! I still have the copy of it today and it brings back memories of me sitting in class reading the book instead of actually doing school work and listening to the teacher. Rebelling bookworm since primary school, that's me.
Why do you read? (relax, excitement, to learn, etc.)
I read books for entertainment essentially. But I also read them to learn new things, to give myself new perspectives of the world I live in. I read books to escape the world I live in, which does tend to drown me a little bit sometimes (okay, a lot). I read to calm my mind because I have found that when I am having a bad case of anxiety, it calms me down. 
What was the last book you read and some brief comments on it?
The last book I read was Everything, Everything by Nicola Yoon. This book was unique and amazing for a debut. It's a beautiful contemporary romance that has a perfect balance of focus on romance, family and life. The characters are wonderful, the plot even has some great twists, there are no over-used tropes, and overall it's a book worth everyone's time. 
Post a photo of your favorite cover.
Oh gosh. Another "favourite" question. Okay, fine, I am picking the first pretty cover I see, that's how I'm going to roll with this one.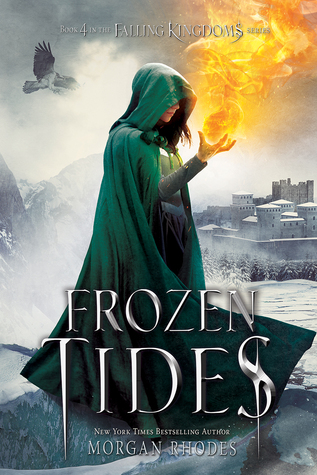 BEHOLD THE BEAUTY OF THIS COVER, HOLY MACARONI!
How many books do you read in a month?
On average I read about 4 – 6 books a month! 
What is your favorite book store?
Book Depository! 
What would be your ultimate story (genre, location, characters, etc.)
Ultimate story? A fantasy. I cannot really contemplate any further than that, but it would be an epic fantasy story with a ton of action, a pinch of amazing, swoon-worthy romance, adventure, and a little bit of everything you'd want in a fantasy story. 
Which book was/is huge but just didn't live up to the hype for you?
Hm… I can't think of any huge book that wasn't up to the hype. But Magonia was definitely a book that didn't live up to it's hype. 
Which book do you recommend for everyone?
Everything Everything by Nicola Yoon! The Hobbit by J.R.R Tolkien! The Knife of Never Letting Go by Patrick Ness! A Monster Calls by Patrick Ness!
Favorite reading spot?
My lovely lazy-boy chair, with leg-propping technology. The comfiest place in my house besides my bed. I could sleep in that char if I needed to!
---