Everything, Everything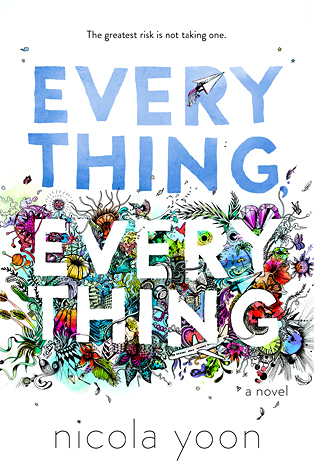 AUTHOR:

Nicola Yoon


PUBLICATION DATE:

1st September, 2015 by Delacorte Books for Young Readers


GENRE:

YA, Contemporary, Romance 


FORMAT I OWN:

Advanced Reader's Copy, courtesy of Netgalley


MY RATING:

5/5 stars
---
Blurb:
My disease is as rare as it is famous. Basically, I'm allergic to the world. I don't leave my house, have not left my house in seventeen years. The only people I ever see are my mom and my nurse, Carla.

But then one day, a moving truck arrives next door. I look out my window, and I see him. He's tall, lean and wearing all black—black T-shirt, black jeans, black sneakers, and a black knit cap that covers his hair completely. He catches me looking and stares at me. I stare right back. His name is Olly.
---
Shout out to Nathan, a fantastic  guy who so very kindly asked to be featured in my blog! Of course I think you're amazing. And I love our chats!
My Review:
Hello bookworms and welcome back to Josie's Book Corner! On this very cold winter day (it is winter here in Australia) I bring to you a review of Everything, Everything by Nicola Yoon!
If you are a fan of Eleanor & Park by Rainbow Rowell, I think you would definitely enjoy this book. But in general, this book is one I would recommend to everyone! This debut novel is definitely worth everyone's time. It's got a little bit of everything that you'd want in a contemporary: a goofy-grin-inducing romance, no over-used YA contemporary book tropes, a very likable female protagonist, a cute boy, a focus of family, love and life. 
Everything, Everything blew me and my expectations right out of the water! As Nicola Yoon's first novel, I am simply amazed. As soon as I finished this book, I knew right away that she was going to be going on my list of favourite authors, right along side Rainbow Rowell! 
Love is worth everything. Everything
As per usual, I shall be discussing characters first. Each character within this novel was fantastic. This novel centres around two households, more specifically, Madeline  – the girl who is allergic to everything, Madeline's mother, Madeline's nurse and Olly – the boy who just moved in next door. These four characters dominate the story. Nicola Yoon knows how to write characters and knows how to do it without the usual tropes and characteristics that tend to show up so often in young adult contemporary novels. 
Madeline is allergic to everything, which means she is confined to living in her heavily sanitised home for her entire life. She is content with it, until the day new neighbours move in next door, and she see's him – Olly. When she meets him, everything changes. She begins to see her world differently as she watches and observes Olly and his family and as she talks to him she realises that maybe the way she is living her life isn't truly living. Madeline is a wonderful protagonist. She sounds so genuine, so realistic. I found myself connecting with her, even though I've never even come close to knowing how it feels to have lived with a conditions such as hers. I felt her emotions of yearning – yearning to have a normal life, one where she can experience everything that teenagers experience. 
I could never imagine what it would be like to have always lived with a condition where you are allergic to everything. If I'd had that, I'd be miserable. Nicola Yoon really genuinely portrays what a person with such a disease goes through. I could totally understand and sympathise with Madeline when she began to question if her life was really being lived up to the fullest, and despite how crazy and dangerous some of her actions were, I rooted for her all the way. That's how great Nicola Yoon is at writing a good protagonist. 
I notice things that I paid very little attention to before. I hear the wind disturbing the trees. I hear the birds gossiping in the mornings. I see the rectangles of sunlight that slip through my blinds and work their way across the room throughout the day. You can mark time by them. As much as I'm trying to keep the world out, it seems determined to come in. 
Olly was lovely. I could picture him in my mind clearly, through the way Nicola Yoon described him. And not only that, he's really refreshing! After reading so many books as of late with quite mysterious and brooding male characters  – which are always my weakness – I was very happy to have a smart, charming, average boy. I loved him so much! He was a perfect mixture, the perfect cake batter! (Oh no, now I have the urge to bake a cake!) I found myself, in moments, swooning over him. He's so kind and sweet to Madeline and their banter. Oh their banter. It was just lovely. So lovely. 
He jumps down from his perch at the back of the truck and glides across the driveway, moving as if gravity affects him differently than it does the rest of us.
I've lingered long enough on characters – let's move into the plot. The plot is simple, but it's sweet and there were surprisingly some twists and turns that I wasn't expecting! And I love being surprised in books! We follow Madeline on her journey of discovering what living really is all about, as she comes to the realisations of the many things she has missed, which is ignited through her meeting of Olly. I found myself constantly cheering her on, silently hoping she would do the things she secretly wanted to do. I was shocked when certain plot twists surfaced in the story. It was totally unexpected and it was a very intense moment. This book really shows the importance of love and the extent to which loss can damage you. It explored what it really means to be living and that sometimes taking risks is a part of living. This book definitely gave me things that will stick with me. 
Every day you learn something new. Every day you find something to be happy about.
Nicola Yoon's writing style is wonderful. If you're a fan of Rainbow Rowell's writing, you'll enjoy Nicola Yoon's very much. The writing is simple, yet it's beautiful and slightly poetic. In many instances of this book, the story is not written in a normal format. It's written through the usual novel style, along with a mixture of instant messaging, diary entries, little snippets of notes and such that really add a uniqueness to this story. It was like I was reading a piece of artwork in an art gallery, to be honest! 
Everything's a risk. Not doing anything is a risk. It's up to you. 
---
Overall, I recommend each and every one of you to pick up this amazing debut novel by Nicola Yoon which will be released on the 1st of September this year! You will not regret it.