A Court of Thorns and Roses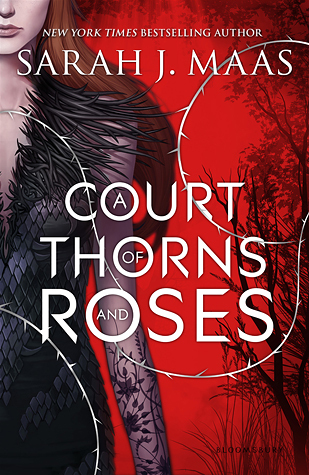 AUTHOR:

SARAH J MAAS


PUBLISHED:

5TH MAY, 2015 BY BLOOMSBURY


GENRE:

FANTASY, RE-TELLING, NEW ADULT


SERIES:

A COURT OF THORNS AND ROSES #1


FORMAT I OWN:

HARDBACK


PAGES:

416


MY RATING:

5/5 STARS
Blurb:
A thrilling, seductive new series from New York Timesbestselling author Sarah J. Maas, blending Beauty and the Beast with faerie lore.

When nineteen-year-old huntress Feyre kills a wolf in the woods, a beast-like creature arrives to demand retribution for it. Dragged to a treacherous magical land she only knows about from legends, Feyre discovers that her captor is not an animal, but Tamlin—one of the lethal, immortal faeries who once ruled their world.

As she dwells on his estate, her feelings for Tamlin transform from icy hostility into a fiery passion that burns through every lie and warning she's been told about the beautiful, dangerous world of the Fae. But an ancient, wicked shadow grows over the faerie lands, and Feyre must find a way to stop it . . . or doom Tamlin—and his world—forever.
---
My Review:
Hello bookworms! I am literally writing this the moment after reading the last page of this AMAZING book. As you have already guessed, I am coming to you with my review on A Court of Thorns and Roses written by the one and only queen of fantasy right now, Sarah J Maas! 

A Court of Thorns and Roses is a re-telling of Beauty and the Beast and in my opinion, it was done

absolutely brilliantly

. It's a perfect mix of magical, suspenseful and so enticingly delicious. I couldn't put it down and I am so glad it is a series versus a standalone. Read on to hear my thoughts . . . 
Let's talk about our beloved characters which are a big and integral part of this novel – and any novel for that matter. We have our main characters: Feyre along with equally main characters Tamlin (team Tamlin all the way baby) and Lucien. We also have some great side characters including Feyre's family, Rhysand, Alis, and our evil lady behind the scenes (I will discreetly not mention her for all you who have not read the book yet – for those who have, you know who I'm talking about).
Feyre is our main protagonist and she is built as a strong, independent heroine. She is a human. She is the sole provider for her family who have descended to a life of poverty compared to their rich life they were so accustomed to. Something that sets her apart from your average "strong, independent female protagonist that is good with a weapon" is the fact that she adores painting. Because of their rich nature, it fell to Feyre to do the hard jobs, despite being the youngest. As a human, she naturally has a cold hatred for the Fae who she believed had driven her, and many others in the human realm, to poverty. And so when she saw a wolf if the woods that could have potentially been a Fae, she unflinchingly killed it, only to be taken by a beast of a Fae – Tamlin – as repayment for the death.
Feyre was a wonderful character to read the perspective of this book from. She's not a frustrating character. I did not find any of her actions frustrating because well, you can't blame her, she was in the dark about everything that was going on at the time. She is also bold and quite witty with her words which is very much seen with Lucien and also with Tamlin. The banter was incredibly enjoyable. Throughout the novel, we see Feyre turn her feelings of the Fae away from being cold and hostile to a more understanding perspective as Tamlin and Lucien showed her what their world was truly like. 
Let's move on to Tamlin. Oh Tamlin, you beautiful, wonderful, adorable man. He is our leading Fae in this novel. And this is by no means a spoiler. This is a beauty and the beast re-telling and he is the beast. He comes into the novel first as a frightening, rough and wild beast. Literally. But beneath that, there are glimpses of a more tame, sweet and charming man. It was in those little moments that my heart was squeezed in my chest. It was so adorable. Tamlin is this mix of terribly dangerous and irresistibly charming. I am team Tamlin. All the way. 
Lucien is a character I liked from the very beginning. I think I have a thing for sarcastic, outright characters such as he. In the beginning when we first meet him, he seems to have no filter. He says what he wishes, holding nothing back, not bothering to hide any of his feelings of Feyre from sight. He is witty and the comments he comes up with are darn right fantastic and entertaining to read. There were many times he made me smile throughout this novel. I admit, I came to like him a bit quicker than Tamlin but still, Team Tamlin. 
Now let me briefly talk about my feelings about the side characters. Feyre's family was very reliant upon Feyre. I found myself disliking her family. They depended on Feyre and spent all her earnings on things selfishly whilst in poverty, however when they were wealthy, Feyre was not acknowledged. I didn't like it. But there were definitely highlights to her family, they were not all that bad. Alis was a very entertaining character. She was good company for Feyre and although she didn't appear much, without her, the story would not have been as good. Rhysand. Now I know so many people dislike his character. Why? Why I say? I frankly, loved him (by the end of the book anyway). Yes, he's cold, calculating and seems to do everything he does for the benefit of himself. A total bastard. But underneath that? I could see that there was more to him than that and I am so excited to see more of him in the next books. Not to mention he is devastatingly handsome (aren't they all?).
My apologies for having such a long review today, but this book is just so wonderful that it has to be done. Let's talk about the world building and the plot now. Sarah J Maas has created a great fantasy world. This book is more centered around the romance, however I am so surprised and happy at how detailed Maas constructed the world throughout the novel. I could literally picture everything in Feyre's world and I'm pretty sure I have a sound grip on what has been going on in her world. 
The plot was suspenseful, brilliant, perfectly paced and absolutely hard to put down. I was hooked and there was a perfect blend of different elements throughout the story that kept it always turning and moving. Trying to figure out what was really going on in the Faerie world along with Feyre gripped me. 
And lastly, I must speak of Sarah J Maas's brilliant writing style. Her writing is full of imagery, emotion and has great flow. This, along with her amazing skills for creating unique characters and great Fae worlds, is one of the reasons I will pick up every single book she ever publishes. 
---
 

June and Roses Read Along Discussion Update!
Bookworms! Attention! For all of you who have joined in on the June Read Along for this book, we are having

a full week of discussion starting from TOMORROW

. So I hope you have all read your copies of ACOTAR!
The girls

@ Bibliophile Gathering

and I will be posting a topic each day

from Wednesday until the end of June to discuss with you all.


IF YOU HAVE READ A COURT OF THORNS AND ROSES AND DID NOT JOIN IN THE READ ALONG,

FEEL FREE TO JOIN OUR DISCUSSION! 
I can't wait to see all of you and discuss this amazing book with you all!
~ josiethebookworm xoxo