Shatter Me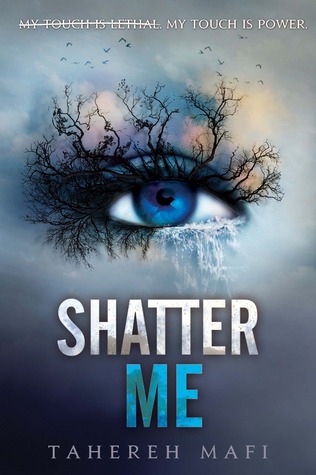 AUTHOR:

TAHEREH MAFI


PUBLISHED:

2ND OCTOBER, 2012 BY HARPERCOLLINS


GENRE:

YA, DYSTOPIAN, SUPERNATURAL, ROMANCE


SERIES:

SHATTER ME #1


FORMAT I OWN:

PAPERBACK


PAGES:

340 


MY RATING:

4/5 STARS
---
Blurb:
Juliette hasn't touched anyone in exactly 264 days.

The last time she did, it was an accident, but The Reestablishment locked her up for murder. No one knows why Juliette's touch is fatal. As long as she doesn't hurt anyone else, no one really cares. The world is too busy crumbling to pieces to pay attention to a 17-year-old girl. Diseases are destroying the population, food is hard to find, birds don't fly anymore, and the clouds are the wrong color.

The Reestablishment said their way was the only way to fix things, so they threw Juliette in a cell. Now so many people are dead that the survivors are whispering war – and The Reestablishment has changed its mind. Maybe Juliette is more than a tortured soul stuffed into a poisonous body. Maybe she's exactly what they need right now.

Juliette has to make a choice: Be a weapon. Or be a warrior
Click here to go to the Goodreads page!
---
My Review:
Hello bookworms and welcome back! Today, I am bringing you a

review of Shatter Me by Tahereh Mafi!

I loved this book. I think it was a beautifully written, fresh take on the dystopian genre with a hint of the superhero theme –

it gives me X-Men vibes

. I'm probably officially addicted to this series. I just finished reading it and I'm so tempted to purchase the next book on my Kindle. I honestly feel the need to read it

right away

. But how about I tell you why exactly I'm addicted to this series? Let's go.


Let's kick off the review with discussing the characters. I thought they were written well. Juliette is our main protagonist and she is a 17 year old girl with the ability to kill people with her touch. Her skin is literally a death trap. She's been locked up in a prison-like institute with no human contact, left to rot because of who she is and what she can do, until one day, the people who locked her up decide to take her out. Now, Juliette was a wonderful protagonist and I loved reading from her point of view. I genuinely liked her. She was feeble, weak and scared when we first meet her in the book. She's not an annoying or frustrating character by any means. She's living in fear and guilt of who she is and the things she's done that she never actually meant to do. 
Juliette, despite this, is a strong character. She genuinely wants to do good things and hates the power that she has and what it can do. I felt like she has so much potential in the next novels and already, I'm beginning to see development from her. 
Adam is the next character we meet. I don't know what to think of him. He's a pretty grey character for me. As I was reading him, I've come to the conclusion that he is too perfect. It's honestly a little suspicious. He is strong and kind and loyal, but I feel like I need a little bit more from him, a little something interesting. But at the moment, he's like a plain piece of paper for me. 
Next up, we have Warner. Oh, Warner, our antagonist, our villain. I know that everyone loves him, but at this point in the book, all I see in him is a obsessive, possessive, slightly creepy and insane man. But my goodness he is a wonderful antagonist. His character is so intriguing, it's as if Tahereh Mafi took all the colour out of Adam and mixed it in with Warner's already extremely interesting character. Warner is really intriguing. He's crazy and totally over-obsessive towards Juliette, but there's something else about him, something that flickers in and out of his personality that has me hooked to see more of him. And of course, I can't help but be drawn to these bad boys. Bad boys in need of redemption. Yes. Yes. 
And last of all, Kenji. Everyone who has read this book loves Kenji. And how can anyone NOT like him? First of all, I love his name. I could say it over and over again, in my head and out loud. Second of all, he is so funny. He is the comic relief in this novel. From the moment he was introduced, I was smiling. He takes everything lightly, making a joke out of anything. I'm so happy and excited to see more of him. 
Let us move on to the discussion of the plot. Man, did this book move fast. In one day, I got through pretty much 80% of the book. When I put it down to check how much I'd read, I just stared in shock at how much progress I had made. This book is so fast-paced you wouldn't believe. At times, I felt like it was a little too fast-paced. I felt like **THIS MAY BE A SLIGHT SPOILER SO SKIM OVER THIS IF YOU HAVEN'T READ IT** that when Juliette and Adam escaped, it was so quick. I thought they would have stayed longer with Warner. **SPOILER OVER** 
But it was such an enjoyable read, I loved almost every minute of it. The world building, I'd say is pretty average for a dystopian novel. The world is destroyed, thanks to our tampering with it as humans and our chemicals and waste and so on, and a new and corrupted government has taken control and is making life hell for everyone else. I hope to see more world building but honestly, this is not so much a problem for me. I am already very interested in the conflict between everyone that I can overlook the lack of impressive world-building. 
Now, let's get to the really good stuff. Tahereh Mafi's writing style. Dang, was it wonderful beautiful and unique. I think however that the writing style is a hit or miss with people. Either you really like it, or you don't. Sometimes, the crossed out words, the lack of using appropriate punctuation where there needs to be can be slightly annoying but I think it really added to the entire feel of things, really added to the emotions that Juliette was feeling. The effect it had on the whole atmosphere of the story was impeccable and I really loved it. It was different. And what I really loved about this book is that it didn't read with the vibe that most dystopian novels give me. It was a completely new vibe, with a really wonderful X-Men vibe mixed into it. I love superhero stuff. And this book gave off waves of the superhero theme. 
---
Overall, I recommend this book to all of you. Well, I recommend you read all the books that may come off as interesting to you,

because you never know until you try!

I know there are mixed feelings about this book, but honestly? I loved it. It's not going to feel like your typical dystopian. It's not going to read like your typical dystopian either. So pick it up, if not, just to try. 
Have you read this book? If so, what did you think of it?
If you HAVEN'T read it, has this review made you want to pick it up?
~ josiethebookworm xoxo