July Wrap Up
Hello bookworms and welcome back! It is officially the end of July. Is it just me or did July just fly past in the blink of an eye?! I honestly can't believe how fast this year is going… It's kinda freaking me out! But anyway, I am here today to give you my bookish round up, where I present to you everything I read in the past month! 
I managed to read a total of 6 books and 1 novella this month! So let's hop right in shall we?!
---
Hush, Hush by Becca Fitzpatrick
I enjoyed this book! It was extremely mysterious and a totally dark read which I was not expecting. For the entirety of the story, I was left feeling so lost and wondering what the heck was going on. 
I didn't know who was good and who was bad, and I was constantly trying to figure out what the situation was. 
Hush Hush is a good first novel to the series, however I don't know if I will continue on with the series. It was great, but I wasn't completely invested in it. 
I gave this book 4 stars.
Click here to see my review.
Click here to go to the Goodreads page. 
Magonia by Maria Dahvana Headley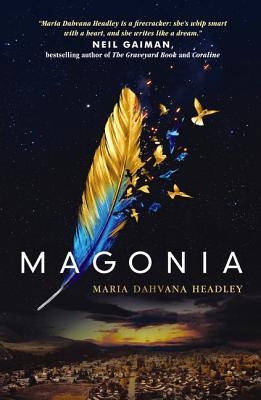 Magonia, sadly, was a disappointment for me. The premise was so interesting and the writing? Man, the writing was beautiful. The cover is absolutely stunning too, I mean, look at it! 
But yes, this book did not live up to my expectations. I did not like the main character, Aza however I really liked the secondary main character (the boy whose name has totally flown out of my head right now). The plot was all over the place, and it felt like it progressed over the course of a single day! That was a bit crazy but also very unique. 
I gave this book 3 stars.
Click here to see my review.
Click here to go to the Goodreads page.
Clockwork Angel by Cassandra Clare
I loved this book. Seriously, I loved it so much. I'm a big fan of The Mortal Instruments by Cassandra Clare and I read the entire series when I was much younger and loved it completely. This year, I began to crave for more Cassandra Clare in my life and after a while of contemplation, I bought and picked up Clockwork Prince (since I had a copy of Clockwork Princess sitting neglected on my shelves).
I loved everything about this book. The setting in 1800s London, the Shadowhunter world, Tessa and Will and Jem and all the side characters. The characters were all distinct from one another, the plot was insanely good and surprised me the only was Cassandra Clare's books can, and the writing was wonderful. 
It was such a relief to get back into her writing and the Shadowhunter world. I forgot how much I loved her writing and now, I have two more potential book boyfriends to add to my list (Will and Jem, I'm falling for you!)
I gave this book 5 stars.
Click here to see my review.
Click here to go to the Goodreads page. 
Shatter Me by Tahereh Mafi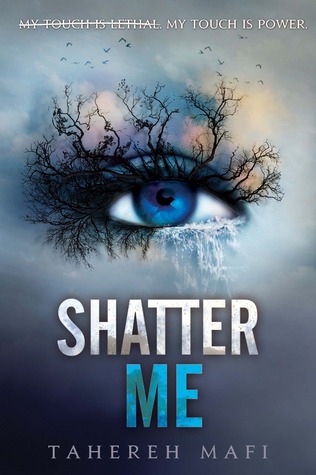 Another book that I really, really enjoyed! The craziest and most awesome thing about this book is how fast-paced it is! But it's fast-paced in a good way. It's over 300 pages long and I managed to read it in 2 days! That's insane! 
But I really enjoyed this book. I liked Juliette, I didn't think she was a bad protagonist, but I'm hoping to see her potentially grow and develop into a stronger lady in the upcoming books. I liked most characters in this book. Adam was an exception. I thought he was very one-dimensional and slightly suspicious. I didn't believe his character. Warner is crazy, and I couldn't believe how people could love him, he was a crazy psycho. But he was written SO WELL. Kenji was simply fabulous. 
Tahereh's writing was so unique and awesome to read, I love the way she went down a different road when it comes to novel writing. 
I gave this book 4 stars.
Click here to see my review.
Click here to go to the Goodreads page. 
Destroy Me by Tahereh Mafi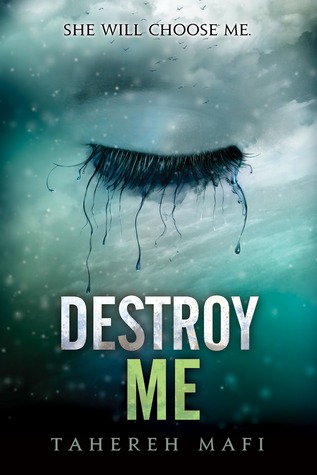 Now do you remember me saying how I could not understand how people could love Warner in the Shatter Me series? You know how I said he was a crazy, obsessive, psycho maniac? Well, let me tell you, this book changed my perspective entirely. 
This novella is told in the point of view of Warner, our antagonist. I suggest that you read this novella right after you read Shatter Me. You know why? Because I am all for Warner now. I can understand why people love him. This book has set me on the path of making Warner my next book boyfriend. This book also motivated me to read Unravel Me even more! 
I can't go on enough about how much I loved reading from Warner's perspective. I just urge you all to read this before moving on to Unravel Me. 
I gave this book 5 stars.
Click here to go to the Goodreads page.
Eleanor & Park by Rainbow Rowell
This book was beautiful and cute and ultimately heart-breaking. I only just recently finished reading this less than a week ago and it's still playing on my mind. 
This is the second book from Rainbow Rowell that I've read and I loved it just as much as the first book of her's I've read which was Fangirl. Eleanor & Park is a contemporary love story of two teens falling in love for the first time, and hard. It deals with family issues too which I really liked. 
This is one of those books that brings you back to reality. Sometimes you can't always have your happy ending, sometimes things can't last, no matter how passionate and strong things are. It makes me tear up just writing this, oh gosh. 
But seriously, this book was amazing, and I loved every minute of it. 
I gave this book 5 stars.
Click here to see my review.
Click here to go to the Goodreads page.
---
I hope you all enjoyed reading all the books I've managed to finish this month! There was a good amount of good books mixed in with some not so good books this month. 
What books did you finish this month?
How many books did you finish?
Which was your favourite?