My Most Anticipated Pre-Order For The Rest of the Year
Hello bookworms and welcome back! It's Wednesday, and you know what that means… Top Five Wednesday time! This is a

weekly meme

hosted by Lainey @ gingerreadslainey on YouTube, I suggest you check her out and subscribe to her because she is one of

my favourite BookTubers

to watch! Also, click here to go to the Goodreads page where you can find all the details, rules and guidelines, and topics! 
This week's topic is

Top 5 Anticipated Pre-Orders for the Rest of the Year.

Now, this is a little bit challenging for me because, well, I don't tend to pre-order books. In fact, I only do so if the series I am reading is AMAZING. But have no fear, I have

ONE, yes, ONE

book to share with you today! Let's hop right on in shall we?
---
Queen of Shadows by Sarah J Maas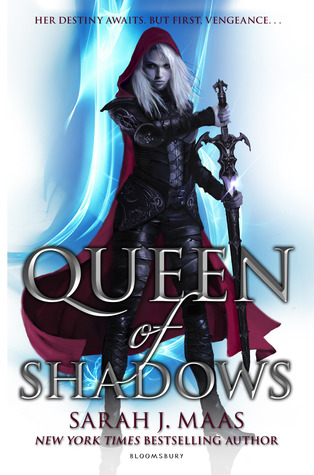 Queen of Shadows will be published on the 1st of September!
Everyone Celaena Sardothien loves has been taken from her. But she's at last returned to the empire—for vengeance, to rescue her once-glorious kingdom, and to confront the shadows of her past . . .

She will fight for her cousin, a warrior prepared to die just to see her again. She will fight for her friend, a young man trapped in an unspeakable prison. And she will fight for her people, enslaved to a brutal king and awaiting their lost queen's triumphant return.

Celaena's epic journey has captured the hearts and imaginations of millions across the globe. This fourth volume will hold readers rapt as Celaena's story builds to a passionate, agonizing crescendo that might just shatter her world.
Now, if you guys didn't know already, the Throne of Glass series is most likely my favourite series of the year. Honestly. Seriously. It will probably come on the top of my favourites list by the end of this year. 
I sped through Throne of Glass and was instantly hungry for more. So as soon as I finished Throne of Glass, I ran to my Kindle and bought Crown of Midnight. I needed to read it immediately. When I was halfway through Crown of Midnight, I decided, I'm gonna buy the entire series in paperback RIGHT NOW. And so, I jumped onto Book Depository and bought the entire series, including the pre-order for Queen of Shadows. 
This is how good the series is, bookworms. This is how much it means to me. It means so much to me that I NEEDED to pre-order it so I would get it as soon as it is released. So basically what I am saying with this post, is that I don't pre-order often. Only, if the book series or the book is one that I am so highly anticipating that I will need it as soon as it's released. 
---
What are YOUR top 5 per-orders? Do you have 5? Or are you like me?
~ josiethebookworm xoxo