The Iron Trial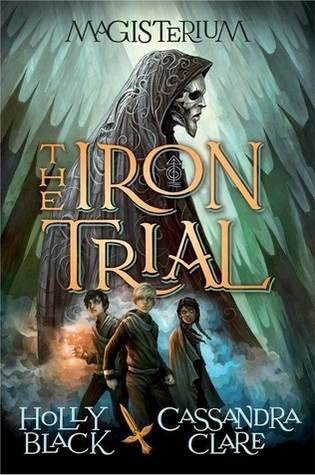 AUTHOR: 

CASSANDRA CLARE & HOLLY BLACK


PUBLISHED:

11TH SEPTEMBER BY DOUBLEDAY'S CHILDREN'S BOOKS


GENRE:

FANTASY, YOUNG ADULT


EDITION I OWN:

PAPERBACK


PAGES: 320
MY RATING: 

4 STARS
---
Blurb:
Most kids would do anything to pass the Iron Trial.

Not Callum Hunt. He wants to fail.

All his life, Call has been warned by his father to stay away from magic. If he succeeds at the Iron Trial and is admitted into the Magisterium, he is sure it can only mean bad things for him.

So he tries his best to do his worst – and fails at failing.

Now the Magisterium awaits him. It's a place that's both sensational and sinister, with dark ties to his past and a twisty path to his future.

The Iron Trial is just the beginning, for the biggest test is still to come . . .
---
My Review
This book was incredibly enjoyable for me and overall, this book deserves a solid 4 stars. I loved reading this because it was so unique and different and it has this air of mystery that these two amazing authors managed to keep up for the entirety of the novel. The reason I didn't give it 5 stars, basically is because, I didn't feel absolutely and completely engrossed in the story and I feel that this is more of an introductory to the awesomeness to come in the rest of the series!
Let's start of talking of the characters because if you know me, you know I love talking about the characters and that characters are an important thing for me. Callum Hunt is our main protagonist. He is a unique protagonist because, yes he is special and has powerful magical abilities, however, he has a disability with his leg that ultimately is his downfall in many situations. I thought it was awesome to have a character with a sort of disability. I could connect with Callum, but one of the main drives in this book for me was trying to figure out who Callum really was! There is this mystery hanging in the air of what Callum is, and he doesn't even know. And when I found out, it shocked me. It caused a huge twist in the end that has be crying for the next book to come out!
Aaron and Tamara were the two – I guess I can say – side characters. These were Callum's only friends basically in the Magesterium (the magic school for those with magical abilities). I thought they were lovely characters and they both has their distinct personalities. Aaron is a very kind, genuine and calm and collected guy and basically is portrayed as a typical hero. Tamara is sassy and tough, totally unlike a girly girl. She could be very dark sometimes that I thought were suspicious, however, in the end I can say that she may have just been very withdrawn in herself.
Let's now talk about the world and the plot. The world in this book is quite unique. Magic and people with magic abilities is obviously not original but the way that Cassandra Clare and Holly Black have created this world is unique. There are those who have access to magic and they are called mages. Children who can control the elements – which is basically the forms of magic in this world, are sent to the Magesterium to learn how to control their magic because it is said to be dangerous. The magic types are fire, water, earth, air and chaos and the rules of magic I thought were well thought out and constructed seamlessly. The plot was awesome! These tow lovely lady authors kept up an air of mystery and underlying drama throughout the entire novel. I was kept guessing continuously and by the end, I was pushed into a state of incredulous-ness at the plot twist. It has made me extremely motivated to continue on with this series when the next book comes out in September.
The only reason I did not rate this 5 stars was because I felt that this book pretty much set out and laid out the foundation for the world and the plot and for the entire adventure of the series. It did not jump straight into the action but you learn about the characters and of the world that will help keep you engrossed fully in the action to come in the next book.
---
So that is all for todays book review! I hope you enjoyed it! If you have read this book, please don't be shy to share your thoughts and if you haven't read it, tell me if you think this book is interesting and if you're thinking of putting it on your TBR or picking it up. 
~ josiethebookworm