As bookworms, spending money on books is one of the things we do most. Sometimes, we spend a little too much money on books… oops. We love the bookstore, but we can't be there all the time and we don't always have the time to go out to the store and stroll through the isles of those beautifully aligned shelves of books. But thank goodness for online shopping: Amazon, Book Depository etc. 
I personally go crazy, shopping at Book Depository. First of all, because it's cheap as heck, they almost always have discounts on their books and I can buy a book automatically or pre-order right there and then! Oh, the joys. I can't be the only bookworm who makes online book orders and I can definitely pinpoint a couple of things we all do when we shop online for our beloved babies (aka. books, duh). 
---
5 THINGS BOOKWORMS DO WHEN ORDERING BOOKS ONLINE
Number One:
Nothing can compare to strolling through a store of physical books, but online bookstores are a haven of its own. So, you somehow make your way to Book Depository/Amazon and begin scrolling through the endless list of books. Suddenly, you end up in the section of books that, just by looking at the list of books, makes your fingers twitch with anticipation. Not long later, you've got way more items in your cart than you should have. They're like, half price! It's okay for me to buy this much! Plus, I need them… You tell yourself. I have to say, I'm totally guilty of this.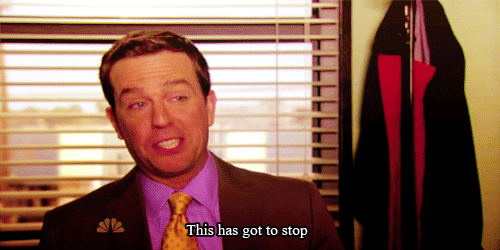 (But really, it doesn't)
Number Two:
You've made the order, now you're in the waiting stage. You hype yourself up, you're so ready to receive that book that you finally decided to order. Three days later, you're rolling around on your bed wondering where the heck your book is: WHAT'S TAKING IT SO LONG?! I WANT IT NOW. You find yourself obsessively checking your mailbox every day, whenever you come home the first thing you ask is: Is my book order here? When the mail guy comes, you run like a cheetah, because it MUST be your book mail, it must- nope, just newsletters. *sob*
Number Three:
Forgetting that you pre-ordered a book and feeling like it's your birthday when this pre-order unexpectedly pops up at your door: gosh, this is the best feeling ever, am I right bookworms?! It feels like Christmas all over again. This is one of the things that's great about online book orders: sometimes they take so long to get to you that you forget you ordered them: forgetting is the good part, waiting is the horrible part (as mentioned in #2).
Number Four:
The guilt: you've spent way too much money on books… AGAIN. You wonder when you will ever learn some self-control and you soon come to the conclusion that you will go on a book buying ban for a few months. Two weeks later… PAY DAY, TIME TO GO BOOK SHOPPING! WOOOOO! 
Number Five:
That glorious moment when your books arrive. Not just one, but ALL the books you arrive. What do you do? Drop all priorities to unbox all your books and take your time to feel each one, squeal and sob at their beautiful covers, maybe even smell them a little… your precious little treasures!
---
I don't know about you, but as a bookworm, I totally can relate to these when shopping online for books. I hope you all enjoyed this post, I finally felt motivated and inspired to write today, which is actually the best feeling, despite my busy study schedule. 
HOW MANY OF THESE CAN YOU RELATE TO?