Hello bookworms and welcome back! January has passed, and February is now upon us. As always, in the book blogger's tradition, it's time to look back at all the books we've read over the month! This month, I actually only read three books – slightly disappointing – BUT those three books were quite fantastic! I have nothing more to say in this intro, so how about we get right onto the wrap up?
(Click book titles to go to their respective Goodreads pages)
---
What I Read in January:
I finally started getting on to the Harry Potter train for the first time EVER. Although, sadly I didn't follow through with the rest of the series – I will probably read one book a month, from the way this is going.
I really enjoyed the first book in the Harry Potter series. It was a lovely start to the series, and it really felt as though I was watching the movie, because the book was almost identical to it! I find it awesome that the movie really stuck true to the storyline within the book, and it's something I will always appreciate with book-to-movie adaptations.
I gave this book four out of five stars
---
This is the first book in a historical fiction duology, set in WW2 in a world where Hitler won the war and conquered Europe. If that description doesn't sell you, then just wait until you hear the rest of what it's about! Following a girl named Yael, who is on a mission to disguise herself as the last winner of an annual 'around-the-world race' hosted by Hitler and the Hirohito, known as the Axis Tour.
This was an incredible historical fiction novel that did a stellar job of being accurate to historical detail and having a compelling plot and emotional depth. I felt as though all aspects of this novel balances out equally. The plot was so exciting and I was constantly kept of my toes, but at the same time, the main character was written with so much depth that it got my mind spinning with deep thoughts and gripped my heart in its clutches.
I gave this book five out of five stars
---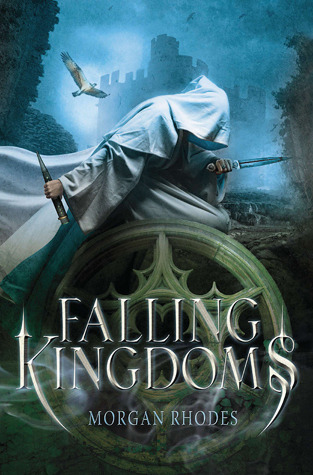 Falling Kingdoms is the first book in a six book fantasy series. This was a good start to the series. It set up the world nicely and introduced a great cast of characters that show potential of much more development throughout the rest of the series. I felt as though all aspects of the book were not very well done, but considering it's a six book series, I suppose it did a good job of including a good amount of everything within it. I'm already quite attached to the characters within the story too! I can't wait to see what Rebel Spring has in store. 
Also, we are going a Falling Kingdoms read along, so if you'd like to join, we are currently reading Rebel Spring! 
I gave this book three out of five stars
---
I am satisfied with the books I read this month, even though I only read three. I would highly recommend everyone to read Wolf by Wolf so if you haven't read it, GO! GO READ IT NOW before the next book comes out (which by the way, I am buzzing with impatience for).
What did YOU read in the month of January?