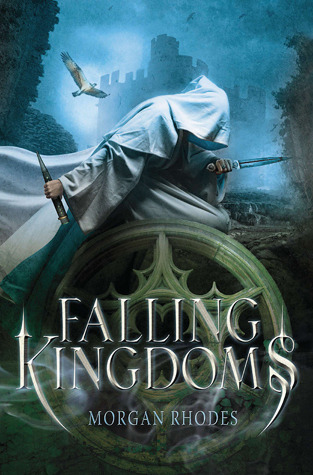 Title: Falling Kingdoms
Genre: Young Adult, (Epic/High) Fantasy
Published: December 11th, 2012 (first published 1st January, 2012)
ISBN (for my edition): 1595145842
Edition: Hardback, English
---
Critical Rating: 3/5 stars
Entertainment Rating: 4/5 stars
Plot:
drama-filled, not much action, build up to bigger events, slower pace 
Writing:
multiple POVs, third person limited, nothing extraordinary
World Building:
well-described, imaginable, picturesque
Characters:
introduced well, not explored/developed in depth, multiple storylines fit together nicely
---
My Review:
Greetings bookworms! Today I'm bringing you a review of Falling Kingdoms by Morgan Rhodes, the first book in her fantasy series. Falling Kingdoms is a great start to the series and a fantastic lead up to all that is to come in the rest of the series. It's of a slightly slower pace and focuses largely on the introduction of multiple storylines within one world, however, it introduces everything – from character personalities and situations to the world, to the developing plot – very well. It's a story full of drama and tension, a fantastic lead up in the action that is to come in the following novels. 
I gave this book three stars, but be assured that I absolutely loved Falling Kingdoms. On an entertainment perspective, this book would get a higher rating of possibly four stars, however, I've vowed to be more critical with my reviews this year, to ensure I don't overhype a book or deceive someone into thinking a book is better than it is. 
I enjoyed this book, because it has some of my favourite elements within it – it's a fantasy novel, full of magic and prophesies and warring kingdoms, witches and handsome brooding princes (to be precise, one particular prince that goes by the name of Magnus). It felt like there was so much going on, even though there was hardly any real action occurring. What I liked the most was getting to know all the characters for the first time – and let me tell you, there are many of them; so many that there is a glossary of character names at the front of the book. I picked up the names of each character quickly, so I didn't find it difficult to keep track of who is who, however, if you struggle with keeping up with names, you might have to flick back a couple of times to the character list to keep yourself in check. But this is a minor thing, and as you read further, it gets much easier to distinguish and recognise who is who. 
Not much happens this novel, if you really take a look and even when it gets to the action, it is very much dampened down, making it feel slightly anticlimactic. There is largely a buildup of tension and an indication for the majority of the story that something big is going to happen, however, when it finally got there, it was overlooked. When I think of fantasy novels and battle scenes, I expect them to be full on, a little violent and very focussed on the action, however, I think with all the switching perspectives, the glory of the battle was drowned out, unfortunately. But I also felt that it was still really engaging, despite the lack of action. There was so much drama that I easily got caught up in the lives of all these characters, especially Cleo and Magnus, who are most likely my favourite characters out of the bunch. I love how this story set up its plot, though. It goes on for 80%, building things, watching the characters struggle with issues while silently, bigger things are building, and then finally Rhodes lets all the crap hit the fan all at once. 
There are multiple POVs in this novel, that for some, might be quite hard to keep up with. For me though, I loved it. I felt as though, despite having quite a few POVs to switch between throughout the story, it never felt choppy or out of place. All the events related to each character connected nicely between one another and when it came time for some storylines to intertwine, it was a gentle and smooth progression that fit like a puzzle piece. The characters themselves were great. They were dynamic and totally different, and there was a perspective from all three different kingdoms, which was quite nice, to get a glimpse of the situations in each of the kingdoms and seeing each kingdom eventually converge. 
The writing is nothing special, its not flowery, but simple to read and it builds the world without being overly descriptive, and that's something I liked about it. It did an amazing job of creating an image of each kingdom's landscape without plainly mentioning it, or taking a paragraph or two solely to do it. It was mentioned in subtle hints and claims, used in dialogue or simple notes of description every now and then, and that was enough to be able to picture each kingdom as their own – the lavish, beautiful lands of Auranos, the stale, icy kingdom of Limeros and the infertile, dying lands of Paelisa. 
Overall, if you're looking for a new fantasy series to read, I think Falling Kingdoms is a great one. If you're looking to dive into different styles of writing, such as reading books with more perspectives and such, Falling Kingdoms is a good one. I felt that this was a much more character-driven book, as there is so much to explore, that trying to fit a deep exploration into a complex plot and all the characters within the novel, would just end up in a mess of loose ends and holes so I think Falling Kingdoms was written well. If you haven't read it already and you enjoy fantasy, check this out bookworms! 
---
Read Along Update
For everyone joining in on the #KingdomReaders read along, we are currently in our second week of reading the first book: Falling Kingdoms (aka, the book that I've just reviewed, duh!). So we all have one more week to finish the novel and then we will be bringing to you a group discussion, hosted by myself and the other read along hosts. If you'd like more information about the read along or would like to refresh your mind about it, click here.  
---
I hope you all enjoyed this review of Falling Kingdoms by Morgan Rhodes. It was a good starting point for the rest of the series to continue from. Now I'm going to go and fry my brain trying to figure out what to read next. 
Have YOU read Falling Kingdoms? If so, what did you think of it?