THURSDAY RAMBLINGS IS A CASUAL FEATURE/MEME HERE ON JOSIE'S BOOK CORNER WHERE I PICK A TOPIC AND DISCUSS IT WITH YOU. THIS IS A CASUAL POST, FILLED WITH RAMBLING AND CHATTING! SO BASICALLY, WE ARE SIMPLY HAVING A CONVERSATION ABOUT THE TOPIC AT HAND.
Hello my fellow friends and bookworms! Today is Thursday, meaning it is about time for a Thursday Ramblings post. You know what these are all about – I introduce a topic, and we talk about it. 
But you know what else today is? Today marks the day that we are officially 13 days away from Christmas! That means, 13 days left you buy all your loved ones presents and gifts! Gifts are a hard thing to buy – at least, for me they are. I struggle even buying small birthday gifts and try to get away with a gift card or money. But guilt always gives in as my conscience tells me: it's the thought that counts! 
Christmas time is a holiday for giving and receiving. A time for creating good vibes and spending quality time with those you love most. And none of us can deny the joy of presents. Everyone loves presents! But sometimes they are so dang hard to buy. You don't know what people would like, you don't know whether someone has already bought the same gift for the same person or not. Personally, I just wish someone could give me a list of everything they would like so I can simply choose something.
Maybe you are a non-bookworm, and you have some bookworms as friends. Buying presents for a bookworm can sometimes be hard – sure, you know they want books, but… what kind of books exactly? And do they want anything else besides books? The answer is yes. We bookworms do have a strong love for books, but there are other things we'd want too! 
So to make it easier for all of you who are clueless as to what to give your bookish friends for Christmas, or any other occasion that requires presents, here is a simple and informative gift guide (and hints at my own personal wishlist of items I'd love to receive). 
---
Books
So the first and most obvious present you could give your bookworm friend of yours, is books. But there are so many books out there: middle grade, young adult, adult, fantasy, sci-fi, romance, contemporary, dystopia, mystery, akjfaiugbjaasgjab. The list goes on. So where the heck do you BEGIN?! 
The answer is plain and simple. Most of the bookworms I know use Goodreads religiously. To track their reading progress, to add books that they want to read, to interact and feel normal as an obsessed reader. What I'm trying to say is, that we bookworms basically create digital book wish lists on Goodreads. All you have to do is get into this conversation with your bookworm buddy: 
You: "Hey, I'm going to start up a Goodreads account, can you send me the link to your profile?" 

Your bookworm friend: "Yeah, sure! I'll recommend you a ton of good books!" 

You: "Proceed to look at their "to-read" list and pick a book of your choice to give them as a present (and get obsessed with books in the process…maybe)

#smoothAF
Or if they have a blog, such as many of us, including me (obviously), you can simply look through their blog for tidbits of information that will tell you what books they most desperately want. Although, be warned, this takes a little bit more effort!
CUTE BOOKMARKS
I can't speak for all bookworms here, because I know some bookworms simply use odd pieces of paper, but I am personally obsessed with cute bookmarks. And I'm a hoarder of them. Buying your bookworm friend a cute little bookmark, I think, would be a perfect Christmas gift, especially if another friend of yours got a book to go with it! Or even better, if YOU got a book to go with it! (but honestly, no pressure)
If you're looking for some cute bookmarks, Etsy is the place to go. There are these bookmarks called MyBookmarks which are the most adorable little things I have ever seen in my entire life! And they're handmade, so they're almost 100% guaranteed to be made with love!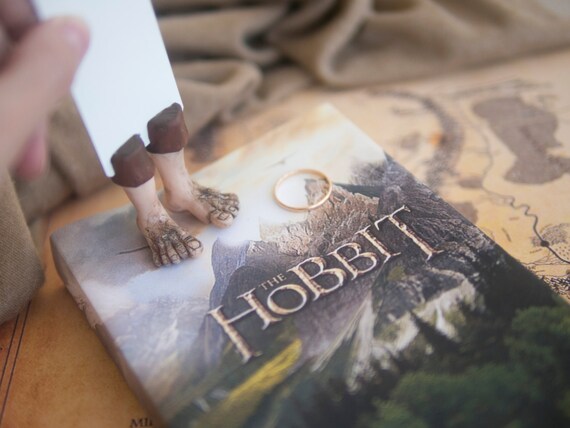 Is your friend an intensely huge fan of Lord of the Rings? This Hobbit bookmark would be the perfect gift for your bookish friend. I mean, LOOK AT IT! AGH I MIGHT DIE. I want to grab it with my own to hands and clutch it to my chest and never let it go. AGH.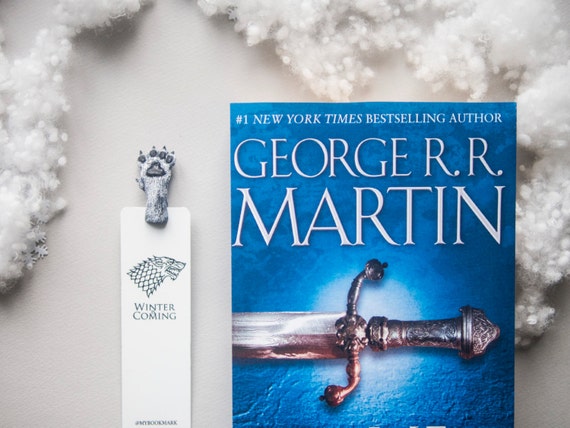 Or maybe your bookish friend is a Game of Thrones fan. There's been so much hype around it that I think almost everyone has jumped on the Game of Thrones fandom train, what with the TV show and everything. If so, this Direwolf bookmark would be a perfect gift for your bookish friend!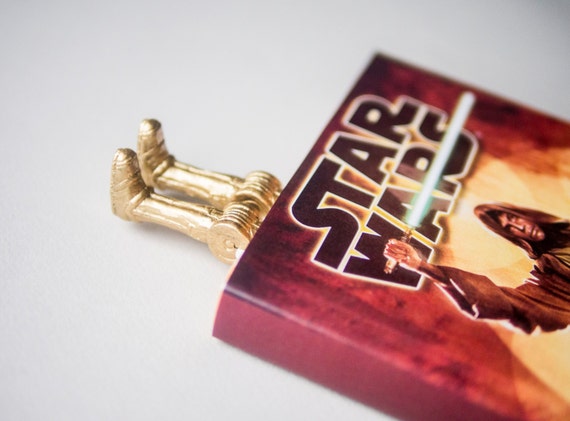 WHO DOESN'T LOVE STAR WARS? Everyone loves Star Wars, come on. Look upon the beauty of this C-3PO bookmark! I think that not only would this be a wonderful gift for your bookworm friends who like Star Wars, but also for your friends who are Star Wars fans! 
There are so many more that I wish I could show you, but that would make this post a million times long. So instead, click here to see all the different bookmark designs for yourself! 
Bookish Jewellry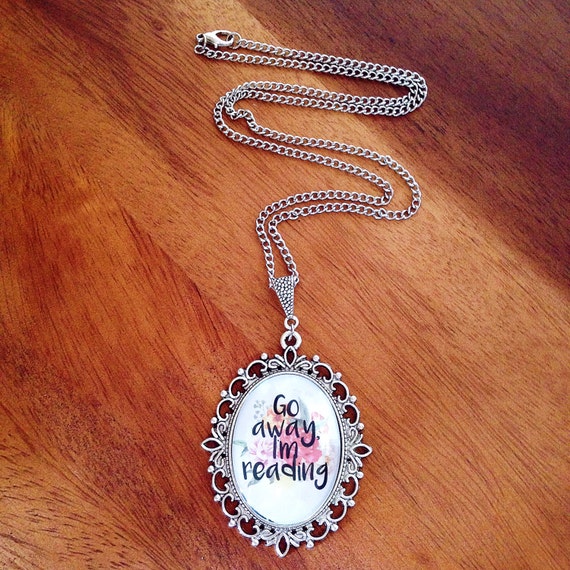 Maybe you have a girl friend who is a bookworm, or a girlfriend who is a bookworm, who also simultaneously loves jewellry too. If so, why not combine the two? BOOKISH JEWELLRY. Anything from a "go away, I'm reading" necklace, to book earrings! 
Bookish Decorations!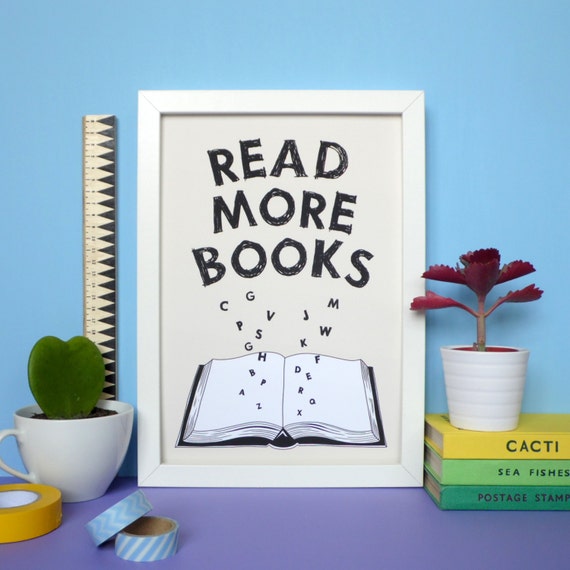 Now, by 'bookish decorations', I mean, things that your bookworm friend can use to outwardly show their bookish-ness! Whether that be a bookish poster like the one in the image above, or something like, this cute little door sign would be the cutest gift ever!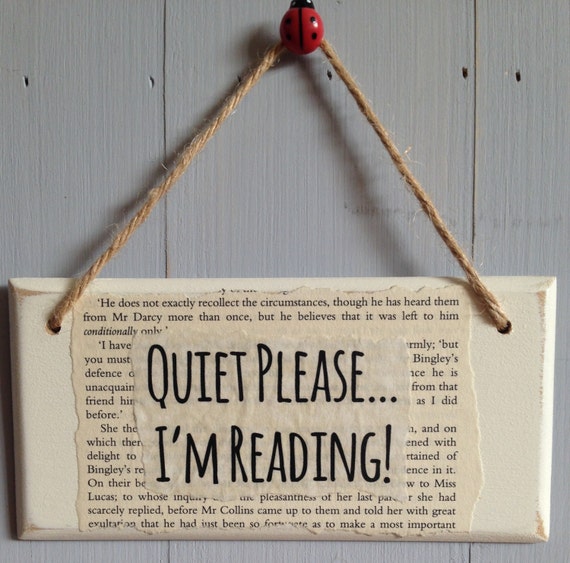 Personally, I need this door sign desperately. It's as though the world wants me to do anything but read when I am ACTUALLY READING. Seriously, it's insane the amount of distractions that occur when I start to read. Insane I tell you. 
BOOKISH MUGS. YES.
Bookish mugs are life. It's well known that most bookworms love to indulge themselves in a cup of tea/coffee. What better way to warm up your bookish friend's heart, than to give them a new mug to pour their warm tea or coffee into? 
Now we shall proceed with a range of amazing bookish mugs. [Click each image to go to their purchase site]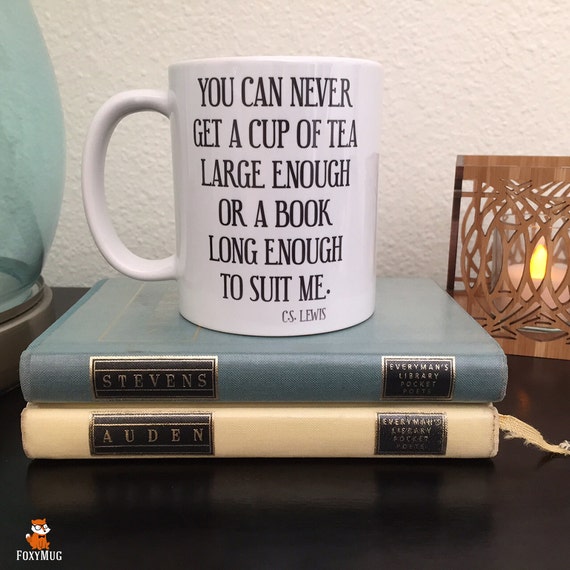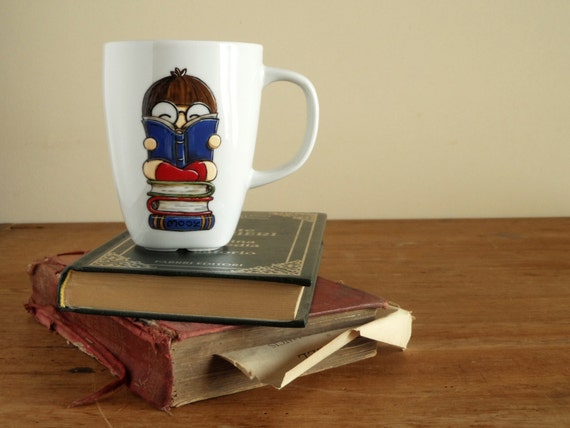 Notebooks
The only thing I love more than a good book to read, is a good book to write in! Being a blogger, I like to write things down, especially about the books I read. I like to make notes and write down all the positives and negatives so that when I come to a review post, I have all the tools I need to write a good, well informed reviews. But also notebooks are great for all of those bookworms out there who get so inspired by their love of books that they want to write their own! Help your bookworm friend out by gifting them a cute bookish themed notebook to write their novel ideas in. 
A kitten?
So you've got the book, the hot cup of tea in that cute mug, the ADORABLE bookmark and a lovely canvas holding a bookish quote on the wall, but you know what would complete it? A little ball of fluff curled up in a ball on your bookish friend's lap. Yes, that's right. Many of us bookworms are cat lovers (I'm one of the more crazy cat lady type people), but if your friend isn't a cat lover, maybe get them a dog, or a rabbit, or a goldfish instead. Whatever suits your fancy. 
(Okay guys, you know I was kidding about that one right? … Right?"
---
Phew! There we have my little take on the bookworm Christmas gift guide! I hope you all enjoyed and know what to get your bookish friends for Christmas now. 
Bookworms! What would be the top item on your Christmas wishlist?