Spotlight Saturday #9
Hello bookworms! It's Saturday, therefore it's time for another installment of my weekly feature: Spotlight Saturday! 
Spotlight Saturday is a weekly feature, created by Josie at Josie's Book Corner [aka, moi], dedicated to spotlighting and pinpointing some of the things over the week that have caught my attention more than usual, things I've particularly loved, etc.
This week has been a pretty fabulous and busy week, but I'm glad for it! I feel like I've had less time to blog and be as present in my blogging as I usually am, but despite this, Spotlight Saturday will go on! (what is that saying? Let the show go on?)
Anyone is free to do this feature, just remember to link back to this post (or any other of my Spotlight Saturday posts) to participate! 
---
This week I would like spotlight a new lovely lady who has just recently entered the blogosphere and has been an absolutely sweetheart to me lately. Veda @ Bookzillian Society is enthusiastic and dedicated, always kind and willing to comment and interact with bloggers on the blogosphere. 
Check out Veda's beautiful blog by clicking her blog name above! ↑
---
Unfortunately this week I haven't been active or invested enough in my blog hopping to spotlight a blog post this week! Instead, I shall take this time to acknowledge each and every one of you reading this post of mine! I have just surpassed 460 followers; on my way to 500 followers, and I just love you all so much. 
Blogging would be a bleak experiences without you all, you bloggers and readers who stick with me through my good blogging days and not so good blogging days. Thank you for always bringing awesome, thought-provoking or heart-warming comments! Thank you for introducing me to more amazing blogs and bloggers and thank you simply for making this hobby a joy that I hold close to my heart! I genuinely mean every single word. *showers you all with chocolates and kittens and puppies and books*
---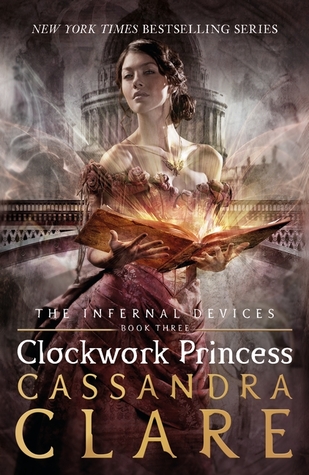 Spotlighted this week, is none other than Clockwork Princess by Cassandra Clare! I am about half way through and I am still not prepared for my heart to be (supposedly) torn apart. I don't think I am ready for the ending of this series. I'm already beginning to tear up in anticipation of the ending, oh dear! 
---
Oh dear, where will I begin? This week has been insane! It's been amazing and busy and awesome and just all around hectic. Firstly, I officially graduated on Wednesday, in which I presented my valdictory speech and RECEIVED 7/8 AWARDS! The amount of times I had to climb up those stairs (and fear tripping over myself and my heels in the process) was crazy. What was even better? I was offered a writing job due to certain professionals being impressed with my speech! HOW FLIPPING AWESOME IS THAT, RIGHT?! 
Also, my mother, being so proud of me decided to gift me with an iPhone 6 for a graduation present – FINALLY I am moving away from the Android life and into the life of Apple. 😉
Proceeding that, if you didn't know, I serve as a leader at my church's youth group, and I am part of the youth's band as a singer and musician. This Friday (aka, yesterday) was my first time leading the praise and worship, and GOSH, it was a total thrill! I was nervous but ultimately, it was the best thing I'd ever done. We also has a spin the wheel preaching type-thing, where a wheel gets spun and whoever's name it lands on must preach for two minutes on the topic. My name was picked. And despite my nervousness, speaking and preaching, even if only for two minutes was fantastic! I even went over the time limit! (woops!)
---
Have I spotlighted the Google Calendar app before? I doubt it. The Google Calendar app is fantastic. I love it because it's got such a clean look, you can colour code your events and tasks and it looks great overall on my homepage! 
---
THE ENTIRE NEW HILLSONG WORSHIP ALBUM IS BLISS TO MY EARS. Open Heaven / River Wild is the name of Hillsong Worship's new album and it is heavenly. To be specific, the songs Transfiguration, Love on the Line, Open Heaven and Pursue/All I Need is You. Beautiful songs that make my heart flutter! 
Buy it now. DO IT. Or at least listen to it on Youtube or Spotify. I beg you. 
---
You put Your love on the line




To bear the weight of sin that was mine




Washing my river of wrongs




Into the sea of Your infinite love

from "Love on the Line", Hillsong Worship
---