Spotlight Saturday | #1
Hello bookworms and welcome back! Today on this lovely Saturday, I am bringing to you a new feature that I've decided to create! It's called Spotlight Saturday! Here's the gist of what this feature is about:
Spotlight Saturday is a weekly feature, created by Josie at Josie's Book Corner [aka, moi], dedicated to spotlighting and pinpointing some of the things over the week that have caught my attention more than usual, things I've particularly loved, etc. 
---

This week I've been full of love for the bloggers I interact with on a daily basis on the blogosphere. So I am going to do something outrageous and go against the rules I set for this post – and this is the first edition of it, dang! – and mention a few of the bloggers that have been on my mind this week. 
The first blogger who I've come to love dearly on this blogosphere over the past week, is Melanie from One Less Lonely Blog. We are soul sisters and we know it! Her posts are lovely and I tend to look forward to her next post. Chatting with her over Twitter is fun and awesome, as we fangirl about the Throne of Glass series and our love for Chaol and Celaena and the series in general! Melanie, you are my soul sister, and I adore you! [Fireheart… ;)]
The second blogger – or should I say, bloggers – are Erika and Meidjel from Partnersinbooks! These two sisters grew on me immediately after I discovered them and read a few of their posts. They are bright and fun, and a ray of sunshine in the blogosphere! Their reviews are so full of their own personalities and unique voices that it feels like I'm sitting in front of them, listening to them talk about the book face-to-face! I especially love when they do book reviews TOGETHER. It's like listening to a conversation between two people! If you don't follow them, go to their blog RIGHT NOW. Erika and Meidjel? I love you girls! Keep doing what you're doing! 
Next, I'd like to acknowledge Anjie from Love Thy Shelf! Not only are her posts wonderful and her book reviews some of my favourite reviews to read (no matter what she reviews), I admire her blog design with bulging, sparkling-with-tears, eyes. Every time I'm on her blog, I stare for a prolonged time of almost a minute, admiring the design. It's spectacular, and you'll know when you see it! Anjie is not just lovely on her blog, but out of the blogosphere too. I appreciate the kindness she's extended to me through other social media platforms and how she is always ready to chat on the blogosphere. Thank you for being a part of my life – even if it is only online. You bring colour to my blog and to my day! 
The last person I have to acknowledge is a blogger who I've only just discovered, but I've come to love already, because of her simplistic blog design, her gorgeous blog images which she obviously puts effort into, and her interaction with me over Twitter and over my blog. It's the one and only CW from Read, Think, Ponder. You must check her blog out. You'll see immediately why I love her blog. That banner? Beautiful! Seriously lady, how do you make it look hand drawn? It's adorable. I look forward to knowing you more as we take this blogging journey together, CW! 
---

My favourite blog post this week is one by a blogger I mentioned above, a post by Anjie. She recently started a feature called Kiss, Marry, Kill with book characters. Her latest edition, was a Kiss, Marry, Kill – Sarah J Maas edition, between the three male characters in A Court of Thorns and Roses: Lucien, Tamlin and Rhysand. 
Why do I like this post? It's a simple little post, but it evoked ALL THE FEELS from me. Sarah J Maas seriously creates male characters that I fall in love with and I love all three of the men mentioned in Anjie's post! She had my feelings and I totally conflicted, and it was so fun to choose (even if it did break my heart to kill Tamlin. Don't worry though, he's got a pretty strong heart… wink wink). 
---

My spotlighted book is the book which I am currently reading: The Wrath and the Dawn by Renee Ahdieh. I'm 140 pages in, not even halfway but gosh guys, this book is worth the hype. Renee Ahdieh is an AMAZING storyteller. Her writing is beautifully descriptive, poised and captivating. The Wrath and the Dawn is like no other book I've read before, it truly deserves to be labelled as unique.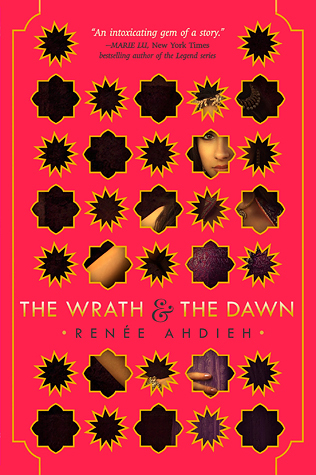 ---

Hm… what moment can I pick that stood out to me this week? The highlight moment of my week has to be the astounding response I recieved from my Discussion Thursday post this week! I discussed the idea of book polygamy and asked you bookworms whether you were book polygamists or book monogamists! The response and discussion I received in the comments blew me away! And to add to the awesome-ness of it all, the same day I posted this discussion, another blogger had posted a post discussing book monogamists! It was so freaky-cool! 
---

I use my phone a lot. In this day and age, it's practically almost impossible not to use our phones, especially all of us graced with the luck of living in a first-world country. Despite all my will power, I used my phone almost constantly. I use it to blog, to organise, to communicate. 
Despite being a very smart-phone oriented girl though, I'm a total noob at Twitter. Ironically, Twitter is this week's spotlighted app! I'm a Twitter noob. I don't understand it's concept, I don't understand what to do when I'm on it. But I digress. I've noticed myself using it a lot more lately, making tweets and tweeting others. I realised it is such a great way to connect with other bloggers, authors, publishers, etc! 
You can follow me on Twitter through my username: itsjosieknight
---

I Cant Feel My Face by The Weeknd. This song is groovy as heck! I can't stop listening too it and I always end up singing along with it. The chorus also gives me road-trip feels. Don't ask, I don't even know why. The rhythm, the beat, the tune, it just makes me imagine sitting in a car, with the windows rolled down, one arm hanging on the rim of the window and my hair flying in the wind. 
---

This week's quote comes from The Wrath and the Dawn by Renee Ahdieh. I chose this particular quote because it was a moment that, when I read it, I started to really become invested in the story. It sparked my curiosity in certain characters and sparked a sense of mystery, of something I don't know, but WILL know in time and I looooove when a book does this to me. 
If you would, give him the love that will enable him to see it for himself. To a lost soul, such a treasure is worth it's weight in gold. Worth it's weight in dreams. 
---