Hush, Hush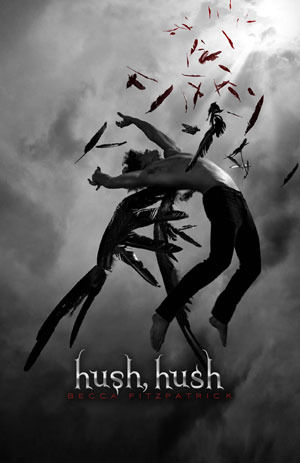 AUTHOR:

BECCA FITZPATRICK


PUBLISHED:

13TH OCTOBER, 2010 BY SIMON AND SCHUSTER BFYR


GENRE:

YA, PARANORMAL, ROMANCE, URBAN FANTASY


SERIES

: HUSH, HUSH #1


EDITION I OWN:

PAPERBACK


PAGES:

391


MY RATING:

4/5 STARS
---
Blurb:
When Nora and Patch are forced together as lab partners, Nora would rather fall to her death than put up with his elusive answers to her questions, his teasing, and his infuriatingly handsome face and hypnotizing eyes. It seems Patch was put on earth just to drive her crazy.

But before long, Nora's defenses start to break down as her curiosity about Patch heats up. Why does he always seem to be wherever she is and know exactly what she's thinking? How does he know what to say to both attract and repulse her? And what is up with those V-shaped scars on his chiseled back?

As their connection grows stronger, Nora's own life becomes increasingly fragile. Nora needs to decide: Is Patch the one who wants to do her harm or the one who will keep her safe? Has she fallen for one of the fallen?
---
My Review:
Hello bookworms! It's Monday and today I am bringing to you a review of

Hush, Hush by Becca Fitzpatrick

which I recently finished reading! I really enjoyed this book. It was

packed full of mystery

with

dark undertones

that gave me

Twilight

vibes – in a good way. 
I've also recently started to do a new way of rating books, which will give a more accurate and fair rating for the book. So without further delay, let's get on to this review, shall we?
So first and foremost, I want to explain the new rating system I'm going by, so that we don't get any confusion here. Entertainment rating basically means the rating I give the book solely on reading it – if that makes sense. Basically, with not much of a critical mind attached. Critical rating is the rating I give the book based on the quality of all the elements of the book together – a critical analysis of the quality of the book. And the rest speaks for itself. 
ENOUGH BLABBERING, LET'S DO THIS REVIEW!
I always start off my reviews with characters, so that's what we are going to do! I thought the characters were well written, I connected well with our main character, but I think the side characters were a bit under-developed. 
Nora is our main character in this novel. She's an average teenage girl, in simple terms. There's nothing special about her. She's kind of a good girl. She lives with her mother, and the death of her father haunts her. She meets Patch, and instantly doesn't want anything to do with him. She's wary of him due to the dangerous vibe he emits and the way he seems to get under her skin, however she doesn't fail to admit the strange pull she has to him. I connected well with Nora. She was a likable character, however some things puzzled me about her. 
The way Nora felt about Patch left me feeling slightly conflicted. At one minute, she's freaked out about him, doesn't want anything to do with him. The next minute, she is confessing her attraction for him. It wasn't this exactly, but the way it was written. I liked the effect. It was like I was constantly guessing who to trust. 
Patch is I guess, a secondary main character in this book. I felt like he was under-developed. I couldn't connect with him very well. He was extremely mysterious. Flirty, brooding and a smooth talker. Throughout the entirety of this book I was switching from thinking: he's a bad guy, he's out for Nora to thinking: he's the good guy… He didn't say enough! I wanted to learn more about him, but I don't think there was ever a moment when he said more than 10 words in a sentence. BUT, he was addicting to read. I, as a reader, felt slightly attracted to him, and by the end of the book, I was – and still am – slightly craving for more of him.
The other characters within this story were good, and added to the story. Vee who is Nora's best friend, is sassy, carefree and out there. Elliot and Jules were a rocky duo, in terms of how I felt about them. They added to the mystery even further and made it even more difficult for me is discern the truth of who the heck was the bad guy!
Let's get off the subject of characters and move on to the plot. The plot was what really stood out to me here, as you can tell by the picture of the ratings. It was so mysterious! For basically 80% of the way through, I was caught up in a guessing game of who was after Nora and what the heck was going on. I detracted from giving it 5 stars because the mystery held on for pretty much the entirety of the book, and it dragged on when I just wanted to get to the point of the novel. I wanted to see more action. 
Becca Fitzpatrick's writing style is fairly average. It's easy to read, had me hooked and connected to Nora. I really felt like I was looking through Nora's eyes because whatever she thought about the characters, I felt like I agreed with. It was a constant conflicting battle of thoughts and assumptions with this book, and I thought that was well done by Fitzpatrick's writing style.
Overall, I recommend this book to those of you looking for a mysterious, paranormal read. While the mystery dominates the most part of this book, the paranormal does emerge towards the mid-end of the book. It was a great, fun read!
---
I hope you all enjoyed today's review! I hope you found it helpful in possibly finding a new book to read!
Have you read this book? If so, tell me your thoughts!
If you haven't read it, has my review made you want to pick it up? Or not?
~ josiethebookworm xoxo