Ugly Love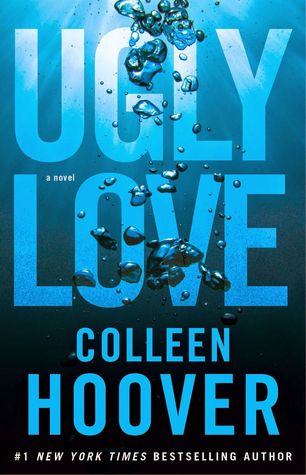 AUTHOR:

COLLEEN HOOVER


PUBLISHED:

5TH AUGUST, 2014 BY ATRIA BOOKS


GENRE:

NEW ADULT, CONTEMPORARY, ROMANCE


SERIES:

STANDALONE


FORMAT I OWN:

BORROWED FROM LIBRARY, PAPERBACK


PAGES:

322


MY RATING:

4.5/5 STARS
---
Blurb:
#1 New York Times bestselling author Colleen Hoover returns with a new heart-wrenching love story.

When Tate Collins meets airline pilot Miles Archer, she doesn't think it's love at first sight. They wouldn't even go so far as to consider themselves friends. The only thing Tate and Miles have in common is an undeniable mutual attraction. Once their desires are out in the open, they realize they have the perfect set-up. He doesn't want love, she doesn't have time for love, so that just leaves the sex. Their arrangement could be surprisingly seamless, as long as Tate can stick to the only two rules Miles has for her.

Never ask about the past.
Don't expect a future.

They think they can handle it, but realize almost immediately they can't handle it at all.

Hearts get infiltrated.
Promises get broken.
Rules get shattered.
Love gets ugly.
---
My Review:
Hello bookworms and welcome back! Today, I am bringing to you a review of Ugly Love by Colleen Hoover. 
As the first book I've read by Colleen Hoover, this book has

completely converted me into a CoHo fan

. Not only is her writing extremely wonderful, engaging, poetic and artistic, the story was completely heart-wrenching with great characters! Ugly Love is a novel focused around love. It's a love story. Obviously. But if you're looking for a swoon-worthy, cute romance that gets you squealing, think again. This new adult novel

explores love in it's most ugly times

, the lowest times it could possibly get. But not only this, Ugly Love is a novel that explores

loss, guilt and acceptance and the idea of letting go of your past to give away to your future.

And it's done absolutely beautifully. 
Love isn't always pretty, Tate. Sometimes you spend all your time hoping it'll eventually be something different. Something better. Then, before you know it, you're back to square one and you lose your heart somewhere along the way. 
I'll start with our characters, as I always do. Tate Collins is our main character. She is a certified, but has gone back to live with her pilot brother to study nursing even further. This is all she is prepared to do. Until she meet's her brother's friend across the hall – Miles. She gets into an arrangement with Miles to have sex with no strings attached. I thought Tate was a good character, I liked her. She has standards, she knows how to take care of herself and stand up for herself. She is also very compassionate for people.
One thing that irritated me about her, was the way she handled the arrangement with Miles. For me, I thought the arrangement was completely ridiculous. But I understood the reasons behind it. Whenever she's around Miles, it seems as though she doesn't have control over herself and she can't think straight. This slightly frustrated me because I was constantly asking myself when Tate would come to her senses! However, if I had been put in her situation, I would have most likely done the same as her. 
He's going to break it eventually, yet I continue to allow him to fill it. Every time I'm with him, the more painful it'll be when he rips it out of my chest as though it never belonged there in the first place. 
Miles is our second main character in this novel. He's our romantic interest and the man who gets in an arrangement of sex with Tate – as you know already. I really liked his character, like REALLY. He's one of my book boyfriends now, most definitely. Miles is extremely attractive, let's get that out of the way. He is also a very troubled character and as a result, he is seen as very quiet and withdrawn in the novel.
I suppose if a man lived through the ugliest side of love, he might never want to experience it again.
Things that happened in his past swirl around him and it's all very mysterious, not only to Tate but to readers also. I was left wondering what could have hurt him so much to make him avoid ever loving anyone again. As the novel progressed and I slowly read the revelation of his past, I came to grow to love him. He comes of as a bastard. I mean, who uses a girl for sex? How cruel. But there's more to it than this. He's a genuinely lovely guy. He's kind and awfully sweet. There were moments of him where my heart squeezed in my chest. 
Miles was the most developed character in Ugly Love. We see him grow from being distant, detached, withdrawn and very cautious to slowly coming to terms with his past and the possibility for his future. He struggles so badly with what happened in his past and it's evident how much it's been limiting how he lives his life. It was heart-aching and heart-breaking to read about his past and how he deals with it in the present. By nearly the end of the book I was crying. I had to hold back tears because I was reading this at work. 
The difference between the ugly side of love and the beautiful side of it is that the beautiful side is much lighter. It makes you feel like you're floating. It lifts you up. Carries you. The beautiful parts of love hold you above the rest of the world. They hold you so sigh above all the bad stuff and you just look down on everything else and think, wow, I'm so glad I'm up here. 
Corbin is Tate's older brother. He's a great character and I love how he's written as a brother. He's a great brother to Tate. He's protective and has high standards for the man that will become Tate's boyfriend – whoever it is. I have not much more to say about him except for the fact that I am very happy to see his character written this way. The other side characters were great additions to the novel and all had their distinct personalities. Dillon was a despicable man, and I despised him the most in this novel. Ian is a character not seen much in the book but he was a good friend to Miles and was kind and considerate, as far I could tell from this novel. 
Cap was one of my favourite characters in this novel! He was so wise, so funny and sweet and was like a best friend to Tate. He always had the wisest things to say and the funniest things to say. When I found out who he actually was, I was grinning because I couldn't believe how cheeky it was. 
Sometimes a man's spirit just aint strong enough to withstand the ghosts from his past. Maybe the boy just lost his spirit somewhere along the way. 
Next, let's talk about the plot. I really liked the plot, but this is where I found slight faults. This novel explores the experiences and feelings of Tate and Miles as they try to have a no strings attached, sex relationship. No personal stuff, no love. Just sex. This idea is not one that I like personally, so I found it ridiculous. I also didn't like the way it portrayed women – as objects for sex. This is why it went down by 0.5 of a star. But besides that, it's an incredibly beautiful love story. It explores the ugly sides of love – first love and tragedies that can come along with it. It explores how guilt from the past can result in an all consuming thing and it explores forgiveness and the ability to move on and continue life and find new love. It was beautiful and honestly gave me the urge to have a full-on cry – like, ugly crying. But alas, I was at work, so I could not do that.
Colleen Hoover's writing style was really unique. She told this story in the perspective of Tate in the present day and then also Miles six years earlier. I loved this. We got to see the experiences of Tate and Miles in the present and how it slowly tied in with Miles's past. It's also a very slow reveal so it's slowly building up in your head and heart until the final end where everything is revealed and reaches climax. It's at this climax that Colleen Hoover had all my emotions in her hands and literally poured them all over me, all at once. It was almost overwhelming but completely amazing.
---
That is all for this review! I overall recommend this to all of you, however, be warned you should be at least at the age of 16+ as it is for slightly more mature readers and has explicit scenes. But it's a beautiful novel that deserves to be read! 
Have you read this book? Tell me your thoughts in the comments.




Are you planning on reading this book? Has my review helped in any way? Tell me in the comments! 
~ josiethebookworm xoxo