200 Followers! Thank You So Much!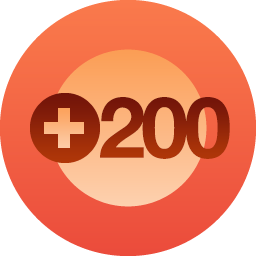 Hello bookworms! I just wanted to give you all a quick post because today

I reached 200 followers on my blog!

This is amazing! And what's even better that

today is also my birthday! (25th June).

Thank you so much to all of you amazing bookworms!
It seems like it was only yesterday that I had reached 100 followers. Lately I've been watching as my followers have slowly increased each day, until finally, I reached the 200 mark! I never even believed I would get to this mark until maybe the end of the year! 
I just want to thank you all for not just following me, but making my blog a lively place to be. Thank you all of you for commenting and discussing with me and liking and even sharing my posts. But most of all, thank you for connecting with me and making this feel more than just a blog, but an on-line home for bookworms. This might sounds weird but you're like my second – well, third – family! 
So once again, thankyou for being so supportive of my blog and I hope to continue interacting with all of you for many days, weeks, months and years to come!
~ josiethebookworm xoxo