Fangirl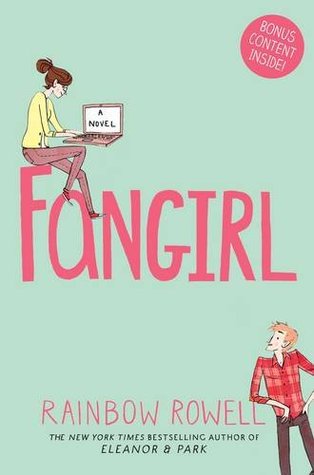 AUTHOR:

RAINBOW ROWELL


PUBLISHED:

30TH JANUARY, 2014 BY PAN MACMILLAN


GENRE:

YOUNG ADULT, CONTEMPORARY, ROMANCE


FORMAT I OWN:

BORROWED FROM LOCAL LIBRARY – PAPERBACK


PAGES:

461


MY RATING:

5/5 STARS
---
BLURB:
Cath and Wren are identical twins, and until recently they did absolutely everything together. Now they're off to university and Wren's decided she doesn't want to be one half of a pair any more – she wants to dance, meet boys, go to parties and let loose. It's not so easy for Cath. She's horribly shy and has always buried herself in the fan fiction she writes, where she always knows exactly what to say and can write a romance far more intense than anything she's experienced in real life.
Now Cath has to decide whether she's ready to open her heart to new people and new experiences, and she's realizing that there's more to learn about love than she ever thought possible …
A tale of fanfiction, family, and first love
---
MY REVIEW:
Hello bookworms and welcome back! I am coming at you today, with

my book review of Fangirl by Rainbow Rowell

. This book,

without a doubt is on my favourite books of 2015

. Nothing is going to push it off, I'm positive. I am also positive that Rainbow Rowell is now one of my favorite authors and I am going to buy

ALL of her work

. All of it. 
Fangirl is a coming-of-age story, complete with

wonderful fan-fiction, awesome family dynamics and of course, love.

If you're expecting Fangirl to be a novel based around romance, think again bookworms because love takes a slight backseat to this story! Now, let's jump in to why I think this book is so darn INCREDIBLE and why it met my expectations and MORE.
As per usual, we will be discussing the characters of the novel first. One of the reasons I loved this book so much was that Rainbow Rowell created incredibly likable characters that I could genuinely connect with and interact with (in my mind). They all had their distinct features and traits that set them apart from the other characters. There was no situation where I would read a character and say "she sounds similar to him/her" or vice versa. 
Cath, the main character in this novel, was my favorite character and the character I could relate to the most. I found so many similarities between her traits and my own. Cath is a fangirl. She is in love with Simon Snow and writes fan fiction of Simon and Baz and has been doing so ever since she was little, with her twin sister, Wren. Cath is very shy and withdrawn and is not very comfortable with experiencing new things or meeting new people. To the point where she sort of freaks out and avoids even going down to the cafeteria every day – instead, she tries to sustain herself off of the energy bars she keeps hidden in her room. This, I could relate to. Being in new situations is the scariest thing, especially when you don't have someone you're close with by your side. In this case, Cath was without her closest person – Wren. Both sisters are attending college and while Wren is excited and wants to let loose and have fun, all Cath wants to do is isolate herself, write fanfiction and do everything BUT meet new people and experience new things. I can see myself being exactly like this when I go to university next year (I know, sad.) 
Cath goes through some major character development. She realises things about herself, her family, the people around her and it was just the best ride to be on for the entirety of the novel. Cath learns how to open herself up and move out of the bubble of herself that she had lived in and become so comfortable in. 
Wren is Cath's twin sister. She is supposedly the prettier, more sociably adept, outgoing twin. She and Cath had been close for their entire lives basically, writing fan-fiction, being nerds together. But suddenly, when they get to college, Wren doesn't want much to do with her twin. Instead she wants to go out and party and live the stereotypical college life. Wren goes through some significant character development towards the end of the novel, however I didn't particularly like her character. She pushed her sister away instead of supporting her, and was crazy for drinking and partying. However, I do see that the reason she didn't help Cath was to put Cath out in an uncomfortable position where she would be forced to do things she's not used to. The two sisters went through some crazy disagreements and fights over the course of the book, but by the end, they were still close, and that gave me a warm and fuzzy feeling in my heart. Family will always be family. The love will never run dry. 
Reagan is Cath's roommate in college. She's blunt, harsh and speaks what's on her mind. She doesn't hold back. She has that bad-ass vibe about her and what she says can make her sound very rude. She and Cath had an awkward, strange start to their friendship, but although all they did was insult each other or ignore each other, the seemed to be very compatible. I loved their friendship because it was so different. And it was so honest. 
Levi. He is adorable. For the most part, I really adored him and his actions. He's a genuinely kind person that loved to help anyone out. He smiles constantly at almost anyone and anything. Cath sees him as kind of weird at first and I admit, I thought he was pretty quirky. But he grew on me quickly. There was only one thing that I didn't like that he did, which completely shocked me and left a bad feeling in my gut. I hated that it happened, but hey, gotta keep things real, am I right?
Arthur – Cath's dad is the single father of Cath and Wren. He did a wonderful job of raising the girls as a single father. He adores and loves Cath and Wren deeply. He has a fragile mental state which causes Cath to worry constantly throughout the novel. 
The secondary characters were all great. Cath's mother was not seen much, but was mainly defined for her absence. Cath grew up without a mother figure in her life and she holds a bitterness towards her mother for the day she left. Where Wren tries to forgive her mother, Cath holds true to her bitterness and refuses to have anything to do with her. Nick is Cath's classmate in her Writing class. She and Nick agree to be writing partners. They work well together and enjoy each other's company but things get tense as the novel progresses. I disliked Nick for the things he did and the way he used Cath. I found myself frowning when Nick came up in the novel. 
Alright, that's enough about the characters, let's chat about the plot. I loved the entire plot of this novel. Cath is starting her first year in college and she doesn't like it. Even worse, she's been separated from her twin sister and put in a room with strangers. At first, she tries to hide away and just not get noticed. She focuses of her fan-fiction and her writing class. But things don't go the way she planned and she is pulled out of her shell, slowly but surely. At the same time, she's dealing with family issues with her sister, and with her father and his mental state. But through her new uncomfortable situation, she finds friends, love, and realises the importance of her family. She discovers the things she's truly passionate about through her writing class and it was that part that I found very interesting – being an aspiring writer myself.
Rainbow Rowell's writing style is incredible. It's light, fun, and has an astounding flow to it. It fit the novel perfectly and had me engaged the entire time. I caught myself laughing, smiling and even tearing up at some points in the novel. It's her writing style, mixed with the development of her characters that have me convinced to collect ALL of her books.
In new situations, all the trickiest rules are the ones nobody bothers to exlain to you [and the ones you can't google]. Like, where does the line start? What food can you take? Where are you supposed to stand? Then where are you going to sit? Why is everyone watching you? … Bah.
---
So that is it for this week's book chat! This was quite a long one… But I hope you stuck around to the end! If you have read this book, discuss with me in the comments down below! If you haven't, tell me if you're planning to pick this up! I love talking to all of you bookworms.
~ josiethebookworm xoxo