Lost & Found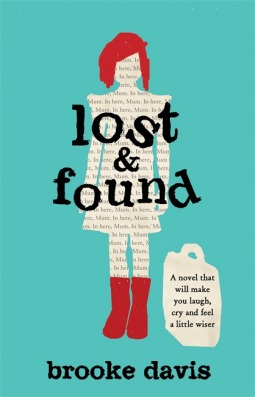 AUTHOR:

BROOKE DAVIS


PUBLISHED:

27TH JANUARY, 2015 BY HACHETTE (FIRST PUBLISHED IN JUNE 2014)


GENRE:

CONTEMPORARY


FORMAT I OWN:

PAPERBACK


PAGES:

272


MY RATING:

4/5 STARS



---
Blurb:



Millie Bird is a seven-year-old girl who always wears red wellington boots to match her red, curly hair. But one day, Millie's mum leaves her alone beneath the Ginormous Women's underwear rack in a department store, and doesn't come back.

Agatha Pantha is an eighty-two-year-old woman who hasn't left her home since her husband died. Instead, she fills the silence by yelling at passers-by, watching loud static on TV, and maintaining a strict daily schedule. Until the day Agatha spies a little girl across the street.

Karl the Touch Typist is eighty-seven years old and once typed love letters with his fingers on to his wife's skin. He sits in a nursing home, knowing that somehow he must find a way for life to begin again. In a moment of clarity and joy, he escapes.

Together, Millie, Agatha and Karl set out to find Millie's mum. Along the way, they will discover that the young can be wise, that old age is not the same as death, and that breaking the rules once in a while might just be the key to a happy life.
---
My Review:
Hello bookworms! I am coming to you today with another book chat. This book chat was requested by

Warisha @ Warisha Reads

and I was happy to comply and write a review for this wonderful book. I read this book, last year, or at the beginning of this year. Definitely before I started blogging, which is why I do not have a review for it. This may be a little tough to review as it has definitely been a while since I've read it.


Lost & Found

is a short, heart-warming book that is filled with a perfect blend of humorous moments mixed in with definite heart-wrenching ones. This book is completely unique and will leave you speechless. It left a pretty big smile on my face and tears in my eyes. 
The basic plot of this novel is that it centers in on three very unconnected characters within a town. Millie – a girl whose mother has suddenly abandoned in a store, Agatha – a bitter old woman, self-confined to her house ever since the death of her husband and Karl – an old man who is desperate to start living life again. This novel shows how the lives of three very distinct, troubled and ultimately lost characters can become intertwined. It followed these three characters and their journey to find Millie's mother, wherever she may have gone to. 
In continuation with discussing the plot, it was absolutely wonderful. The book started off by switching between the daily lives of each individual character separately. Then a chain of events that brought the three of them together. It was very well done, in my opinion and very, very unique. Millie, Karl and Agatha's journey from their small little town, out into the world to follow wherever Millie's mother had gone was such a fun adventure to follow. Through their journey we get to see their characters develop and change. 
Now let us talk of the characters. Millie is seven years old. Her mother has just left her, all alone in a department store and she hasn't returned. Millie is confused, upset and lost. But she understands what has happened. Her mother has abandoned her. For what reason? She doesn't know. Millie is such a sweet and quite a wise girl and there were so many moments with her that made me tear up. 
Karl was very out there. He does things that are quite strange. But underneath the quirkiness, there's a sort of sadness about him. He lost his beloved wife (not recently in the book) and that was the source of his sadness. Just as Millie, Karl is a lost soul, of his own unique accord. He yearns to get up and start living again. He doesn't limit himself just because he is old. He basically graffiti-ed his nursing home with "Karl the Touch Typist wuz 'ere".  That was the funniest and very heart-warming thing to see. 
Agatha hasn't left her house for years, ever since her husband died. She's stuck in this routine of grief and sadness, doing the same old thing everyday. She's once again, lost. This story basically revolves around that theme. Agatha is bitter, does not want to have anything to do with anyone. She is also bitter towards herself and her age. She thinks she's old and that she's lived out her life already. When together with Karl and Millie, she was so harsh and she does things in a way you may think is OCD. She's cranky and pushes both Karl and Millie away but as the story progresses, she begins to soften. 
All in all, the adventure these three characters undertake together was absolutely hilarious, heart-warming and also very heartbreaking. Their interactions with each other were so funny, especially between Karl and Agatha. They argued and bickered non-stop. Millie was like the middle ground. And as the story progressed, they found themselves warming up to each other. They appeared to be their own family in a way. 
There is great character development in this book. Three lost souls, looking to become found. Millie's story was sad and had me close to tears. And insight into Agatha's life and feelings and why she felt and did the things she did was very sad. I felt such sympathy for her and wanted her to find happiness. Karl's story was equally sad. Just as Agatha, he is mourning the loss of his spouse. But by the end of their journey, they come to realize so many things about themselves, the world around them and each other and it felt me sniffing away happy tears. 
This book ultimately deals with themes such as abandonment, lost love, and second chances at life and Brooke Davis did it in such a wonderful way. I recommend this book to all of you and to anyone from a young age, to old age. It's perfect for everyone!
---
I hope you enjoyed this book chat! I also hope it wasn't all over the place and confusing (as I did just pull this out of the depths of my memory). But seriously, if you haven't read this book, you should. Tell me in the comments if you are indeed interested in reading this book. And if you have read this book, please discuss in the comments with me!



~ josiethebookworm xoxo