Angelfall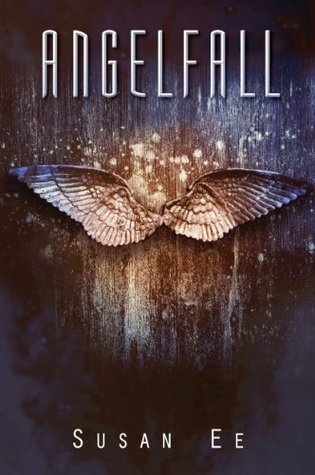 AUTHOR:

SUSAN EE


PUBLISHED:

28TH AUGUST 2012 BY SKYSCAPE


GENRE:

YOUNG ADULT, PARANORMAL, POST-APOCALYPTIC


SERIES:

PENRYN & THE END OF DAYS #1


FORMAT I OWN:

KINDLE EDITION [SOON TO BE PAPERBACK]


PAGES:

288


MY RATING:

5/5 STARS


BUY IT: BOOK DEPOSITORY [THERE'S A 22% DISCOUNT RIGHT NOW]
---
Blurb:
It s been six weeks since angels of the apocalypse descended to demolish the modern world.

Street gangs rule the day while fear and superstition rule the night. When warrior angels fly away with a helpless little girl, her seventeen-year-old sister, Penryn, will do anything to get her back.Anything, including making a deal with an enemy angel.

Raffe is a warrior who lies broken and wingless on the street. After eons of fighting his own battles, he finds himself being rescued from a desperate situation by a half-starved teenage girl.

Traveling through a dark and twisted Northern California, they have only each other to rely on for survival.

Together, they journey toward the angels stronghold in San Francisco where Penryn will risk everything to rescue her sister, and Raffe will put himself at the mercy of his greatest enemies for the chance to be made whole again.
---
My Review:
Hello bookworms and welcome back to another book chat! Today I'm bringing you a book review for the amazing book Angelfall by Susan Ee! This book gave me ALL THE FEELS. This post-apocalyptic, paranormal YA book has re-ignited my love for apocalypse novels. This is an amazing novel full of action, fantastic characters, a gripping plot-line and writing that will leave you breathless by the end of it! Continue reading to hear why I LOVE this book so much and why I consider it one of my favourite books of the year so far. 
Yes, you guessed it, I'm talking about characters first! Susan Ee has created some very well, thought out and kick-ass characters. Our protagonist Penryn is an independent girl who has been forced to take up the responsibility of protecting herself, her mentally ill mother and her disabled sister due to the apocalypse. I loved her character. She is strong, knows how to defend herself, she is smart and is also quite sassy. Her actions and decisions are all spurred on by her need to save her little sister, who gets abducted by the angels in the beginning of the novel. Her love and determination to get her sister back was so strong and that's what I really loved about her.
Raffe is the magnificently handsome angel whose wings are cut off in the beginning of the book. For the book's entirety, he and Penryn travel together to get to the aerie. His motivation in travelling with Penryn is to basically get his wings sewn back on. I'm officially in love with Raffe. He is brooding, mysterious and very withdrawn, rarely showing his true feelings and instead keeping a blank mask over his face. But even though he doesn't show it, there's a hint of kindness within him that develops over time and slowly, I grew more and more attached to him. By the end of the novel, my heart literally broke for him and it was at that point in the novel that I truly fell for him! 
The side characters were just as amazing. In my opinion none of the side characters fell short in this novel. All had their own distinct personalities that added colour to the novel. Penryn's mother is a disturbing one. She is mentally ill and hallucinates seeing demons and dealing with the devil. Susan Ee did a good job of constructing her so that I felt a little freaked out about her. Dee-Dum – two twins who for some reason named themselves Tweedledee and Tweedledum – added to the humorous side of this novel. They are playful and quite sneaky and joke around a lot. Obadiah – I will not explain who he is for reasons of possibly spoiling the book for you – is not strongly developed but is an upcoming presence in the novel. He's a strong leader and is also quite kind and compassionate. I'm excited to see more of him in World After.
There's an obvious chemistry between Penryn and Raffe that I LOVED. Their banter was funny and smart and wonderful to read. What made it even better was that Susan Ee executed their relationship so well. There was chemistry there, but it is essentially a slow burn romance. It was irresistible to read and the ending left me feeling torn and it was amazing. 
Now it's time to talk about the plot. I loved it. As I mentioned before, this book has re-ignited my love for post-apocalyptic novels. From the very first page I could clearly see the shattered world that Penryn was living in and fighting to survive in. It was fast-paced and flowed effortlessly, never missing a single beat. It was twisted and the events that occurred in the last few chapters literally grabbed my heart and ripped it out of my chest. Feelings of horror, shock, surprise and so many more feelings raced through me as I read the end. It kept me hooked from the very first page to the very last page and I was hungry for more as soon as I finished it. 
Susan Ee's writing style is fantastic. I could clearly picture the world she had created. Her writing gripped me from the very first page. I was instantly connected to Penryn's plight and it felt so genuine and raw which was perfect in the apocalyptic setting of this novel. Her words flowed effortlessly along the page and I had no trouble reading it whatsoever. 
In terms of faults for this book? None, in my honest opinion. This book was pure, heart-gripping, raw and intense and I LOVED it. I loved it so much that I just bought the entire series today on Book Depository!
---
So that is all from me today! I hope you enjoyed this book chat. Please tell me in the comments down below your thoughts on this book if you have read it! If you have not read it, tell me if you are planning on picking it up – which I highly recommend you do. 
~ josiethebookworm xoxo