Book Chat | The Clouded Sky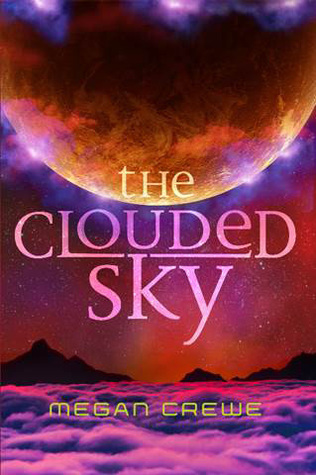 AUTHOR:

MEGAN CREWE


DATE PUBLISHED:

5TH MAY, 2015 BY SKYSCAPE


GENRE:

YOUNG ADULT, SCIENCE FICTION, DYSTOPIA


SERIES:

EARTH & SKY #2


EDITION I OWN:

KINDLE EDITION


PAGES:

354


READING TIME:

MAY 02 – MAY 09


MY RATING:

4/5 STARS
---
BLURB:
When seventeen-year-old Skylar escapes the time-bending Enforcers who secretly control Earth, her troubles have just begun. She and her friend Win take refuge on Win's home space station with his fellow rebels, but the fate of Skylar's planet still spins out of her control.

To avoid detection, Skylar poses as the Earthling "pet" of Win's rival, an arrogant boy named Jule. Homesick and faced with a cool reception from the other rebels, she throws herself into the group's mission: assembling a weapon to disable Earth's restrictive time field. Gradually, Skylar's skill for detail gains respect—even from Jule, who is more vulnerable than he lets on.

Yet challenges spring from every side. Not only must Sky navigate the muddy waters of romance, but suspicions of betrayal grow among the rebels as their work narrowly misses sabotage.

In the latest in Megan Crewe's Earth & Sky series, can Skylar expose the traitor before time runs out and Earth is destroyed?
---
MY REVIEW
Hello bookworms and welcome to another book chat! Today, I will sharing with you, my thoughts on the second book in the Earth & Sky trilogy/series: The Clouded Sky. I enjoyed this book very much and it matched up to what I was expecting quite well. Unlike the first book, this book takes a turn and instead of being an exciting travelling adventure, it becomes a mystery/thriller type deal. I was so happy with this book and enjoyed it. So keep reading if you want to know more of my thoughts! Let's do this!
So, as I always do, let's talk about characters first. Earth & Sky, as you may know if you read my Earth & Sky review [CLICK HERE TO READ THAT REVIEW FIRST IF YOU HAVEN'T] lacked in the character development department. However, The Clouded Sky made up for that. We get to see not just more of Skylar  and Win, but much more of the other characters who are part of the alien rebellion.
Let's discuss Skylar, our main character. She is extremely dedicated to saving Earth. This leads her to go back with Win to the alien spaceship [which is sadly their home] to help with the rebellion. Once again, I did not feel very connected to her as a character, but she was a good perspective to view from for the fact that we get to see how she reacts to the way the Kemyates [aliens] treat humans and how their lifestyle is.
We don't see much of Win, in this novel sadly, because I love Win. However, we get to see more of Jule, a cocky, smart-ass type of guy. There is a lot of his character development through this story, and we get to see the depths of his character, showing he isn't just a cocky dude who likes to wind up Win [poor Win].
The other characters who are part of the rebellion, including Isis, Britta, Pavel, Thlo, etc. were also more developed. I really loved Isis and Britta. They are sweet characters, both together and apart. Thlo, the leader of the rebellion, comes off as very strict, doesn't value Skylar as much as she should.
Overall, I am so glad to have seen more character development in The Clouded Sky. 
The world building and the plot were very well done in The Clouded Sky. This novel is set predominantly in the Kemyate world [alien world]. We get to see the way these Kemyate's live and how they feel about humans. It's sort of like a dystopian world, if you think about it.
The plot was fantastic and really kept me going. This story pretty much centers around the rebellion group that Skylar is part of, trying to organise how they are going to complete their mission. However, there's a traitor on board who are secretly leaking their information. So it's a mystery of trying to figure out who this traitor is. You're kept guessing the entire time along with Skylar and personally, I had no idea who it was going to be and when I finally discovered, my jaw dropped a little!
There's also some romance in this novel which I was also happy about! [I love me some romance.] However, I was not expecting it to be with the two characters that ended up having a romance! But when I think about it, I guess it was bound to happen. I won't tell you because that is for you to uncover!
---
So that is it for my review of The Clouded Sky by Megan Crewe! I hope you enjoyed! Please tell me in the comments down below whether you have read Earth and Sky or if you want to pick it up along with The Clouded Sky! I would LOVE to know. 
~ josiethebookworm xoxo