Book Chat| Earth & Sky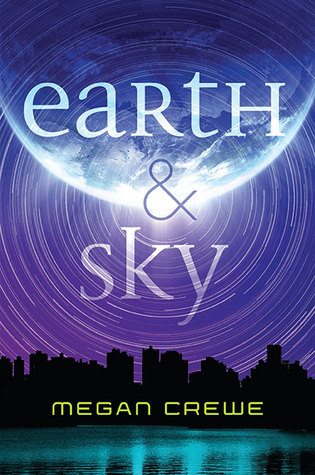 [THANKYOU TO NETGALLEY FOR LETTING ME REVIEW THIS BOOK]

AUTHOR:

MEGAN CREWE


DATE PUBLISHED:

28TH OCTOBER 2014, BY RAZORBILL CANADA


GENRE:

YOUNG ADULT, SCIENCE FICTION


SERIES:

EARTH AND SKY #1


EDITION I OWN:

KINDLE 


PAGES:

308


TIME TOOK TO READ:

5 DAYS


MY RATING:

3 STARS
---
BLURB
Seventeen-year-old Skylar has been haunted for as long as she can remember by fleeting yet powerful sensations that something is horribly wrong. But despite the visions of disaster that torment her, nothing ever happens, and Sky's beginning to think she's crazy. Then she meets a mysterious, otherworldly boy named Win and discovers the shocking truth her premonitions have tapped into: that our world no longer belongs to us. For thousands of years, life on Earth has been at the mercy of alien scientists who care nothing for humans and are using us as the unwitting subjects of their time-manipulating experiments. Win belongs to a rebel faction seeking to put a stop to it, and he needs Skylar's help to save the world and keep the very fabric of reality together.

Megan Crewe's latest tale takes readers on a mind-bending journey through time with a cast of unforgettable characters.
---
MY REVIEW:
Hello bookworms! Now, please don't mistake by 3-star rating as a reflection that this is a bad book, because this book was seriously awesome. It involves aliens and time travelling and action and rebellion that equates to a crazy-awesome adventure. The only reason I rated it 3 stars was because in MY opinion, I could not fully connect to this story as the way I do with most books. But this book was an amazing start to an exciting trilogy [I think it's a trilogy, don't quote me on that].
So let me start off a little differently, going with the plot and style of this novel. I loved it. This was one of the things that gave it it's rating. It's not a crazy twisting and deceiving plot line, but it's a fun adventure. I felt like I was watching a movie as I was reading it! I LOVED the aspects of time travel, that was such a fun part, travelling to different moments in the past, experiencing revolutions in different countries. I loved the inclusion of aliens as well and the way that Megan Crewe weaved them into this novel! [I won't say more unless I accidentally blurt out a spoiler!] The style of the book was good, nothing mind-blowing but easy to follow and that was good because it made the whole adventure, of running back and forth in time, really enjoyable.
Now, let's get on to discussing characters. This was where there was a slight downfall, and you guys know how important characters are to me. Our main character is Skylar, who can sense shifts in time. I couldn't really connect with her, I don't know what it was, but I didn't feel completely invested in her, I just felt like a sort of outsider, watching her through this journey in the novel.
Win I could say, is the second main character in this book who travels with Skylar. I thought he was adorable! He really kept me going throughout the book and his character warmed my heart up.
Jeanant was a character which we met a couple of times in the book however, most of the book centered around him. I really admired his character and out of the couple of times he came up in the book, I came to really like his character. Such a heroic character with a plan an a purpose!
There were also side characters, such as Skylar's friends, and Win's time-travelling buddies [those who are part of the alien rebellion]. I really wished there was more development in their characters, but I think, hopefully in the second book, there will be more character development of Win's friends.
So overall, this book was fantastic. The only downsides were the lack of character development and engagement, and the lack of development of side characters. The story was fantastic and I recommend this book to anyone who is looking for a light-hearted, fun adventure!
---
So that is all for today's book chat! I hope you enjoyed it and I hope you guys plan to pick this book up soon! It's honestly a really great book and leaves heaps of potential for the next book. It may not blow you away, but it's light and fun. Please tell me in the comments what you think of this book and if you're adding it to your TBR!
~ josiethebookworm xoxo