Book Chat | The Novice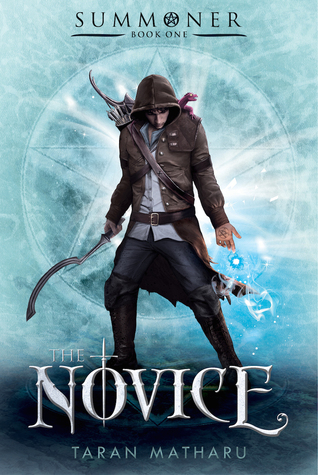 AUTHOR:

TARAN MATHARU


DATE PUBLISHED:

5TH MAY 2015 BY FEIWEL AND FRIENDS


SERIES:

SUMMONER #1


GENRE:

FANTASY, YOUNG ADULT


EDITION I OWN:

KINDLE, SOON TO BE PAPERBACK


PAGES:

398


MY RATING:

4/5 STARS
BLURB:
When blacksmith apprentice Fletcher discovers that he has the ability to summon demons from another world, he travels to Adept Military Academy. There the gifted are trained in the art of summoning. Fletcher is put through grueling training as a battlemage to fight in the Hominum Empire's war against orcs. He must tread carefully while training alongside children of powerful nobles. The power hungry, those seeking alliances, and the fear of betrayal surround him. Fletcher finds himself caught in the middle of powerful forces, with only his demon Ignatius for help.

As the pieces on the board maneuver for supremacy, Fletcher must decide where his loyalties lie. The fate of an empire is in his hands. The Novice is the first in a trilogy about Fletcher, his demon Ignatius, and the war against the Orcs.
---
I received this as a free e-book from Netgalley in exchange for an honest review.
This is the first book of a new rising author, Taran Matharu and damn, was it awesome! I LOVED IT. I thought it was a completely original idea in the fantasy genre with the idea of demons. Plus is had elves, dwarfs and orcs which I thought was awesome and reminded me of Lord of the Rings. Taran's writing is fantastic and engaging and really allowed me to connect and invest myself with the characters and the plot. I absolutely love the idea of Summoners and I can see the potential in this series. 
The characters, I thought were great. Fletcher is our main character, a young orphan boy who one day comes across a summoning book and summons a demon. He's currently on the run from the town he grew up in an ends up at an academy for summoners because he has a unique ability for summoning demons. He's strong-willed and has a kind and honest heart. I also loved his friends, who were also kind and loyal. There was no deep character development within this book, nor were the characters full of depth, but The Novice shows potential for the following book to come and I think this book could have been longer for the way that it ended. This small aspect was one minuscule reason why it only made it to four stars as a bit more character depth or development could have been used, but it is not necessary as it was still a great read. 
The plot and the idea of this book in my opinion was totally original to me. I loved it! The idea of summoners, who are people – mainly nobles – who have the gift of being able to absorb demonic energy and summon demons to control and have them as sort of, sidekicks I suppose. I thought it was a great twist on the way we look at demons. Switching to the geeky side of me for a second, it kind of reminds me of Pokemon! Anyway… back to what I was saying. There was no crazy twists and turns to the book. There is a war  going on between the humans and the orcs who have started to rise up under one banner. There's a distinct divide between those humans of noble blood and those who are commoners and there's a big gap between them. The nobles and most humans have a dislike for the dwarfs and also for the elves and there's that huge tension that is being shown in this book. Overall I thought this was a fun and awesome adventure and I can see that this will be an awesome series, and that there is so much more action and depth to this series! 
---
So I hope you enjoyed this book chat on The Novice! I recommend this book to all of you and hope that you all go over to Book Depository or wherever you buy books online to go pre-order it and help this new and awesome author with his first book! Tell me in the comments if this book interests you and if you are thinking of pre-ordering it! I love hearing your feedback! And also… look forward to my next post as it will be a GIVEAWAY POST because I recently reached 100 FOLLOWERS, WOO HOO! 
~ josiethebookworm