Book Chat | Heir of Fire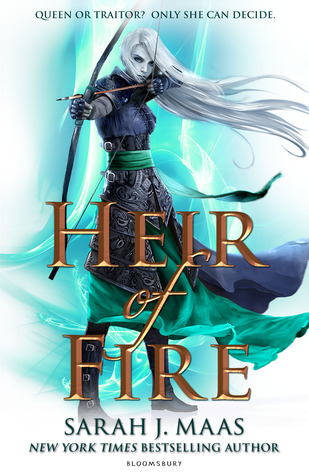 AUTHOR:

SARAH J MAAS


DATE PUBLISHED:

SEPTEMBER 11TH 2014, BLOOMSBURY


SERIES:

THRONE OF GLASS #3


GENRE:

YOUNG ADULT, FANTASY


FORMAT I OWN:

PAPERBACK


PAGES:

562


MY RATING:

5/5 STARS


BUY IT:

BOOK DEPOSITORY
BLURB
Consumed by guilt and rage, Celaena can't bring herself to spill blood for the King of Adarlan. She must fight back…

The Immortal Queen will help her destroy the king – for a price. But as Celaena battles with her darkest memories and her heart breaks for a love that could never last, can she fulfill the bargain and head the almighty court of Terrasen? And who will stand with her?
---
MY REVIEW:
Hello bookworms! So I'm literally writing this just after I finished reading the book. I had to jump right in and give you all a review because this book deserves it! Sarah J Maas did not disappoint with her third book in her Throne of Glass series. Although Heir of Fire progressed at a slower pace than Crown of Midnight and many say Crown of Midnight was better, I believe that Heir of Fire was perfect and it's pace was for a purpose. This book focused more on the character development of Celaena and the other main characters along with the development of the plot and the introduction to new, awesome characters. This book was perfect as a lead up into the epic-ness that is sure to come in Queen of Shadows, book four in the Throne of Glass series. Read on to see my specific thoughts on this book!
As usual, I must speak of characters first, as this book focused a whole lot more on the development of the characters of Celaena, Chaol and Prince Dorian and also introduced a bunch of new characters that add so much wonderful flavors to the book and the series all together.
Celaena is all kinds of bad-ass as usual. This time, we get to learn about her life before she became who she was in the Throne of Glass series. We get to see her past and what led to her being the person she is today. Then, throughout the book we watch her as she battles against her inner demons. She has so much doubt and hatred towards herself and we see the pit that she has fallen into, in which she is trying to climb out of. By the end of this book, we see her emerge, stronger than ever before. It brought me to tears a little bit! (I'm so emotional, I don't think anyone teared up so bad in this book as I did).
Rowan was introduced to us through Celaena's travels. An immortal, warrior elf/fae. He was tasked with the job of training Celaena. My gosh, he's wonderful. So strong, has got just the same amount of sass as Celaena and the relationship between him and Celaena was so wonderful, I looked forward to reading about them every time I picked this book up. He was so stern and cruel at first and that made me repulsed, but as he and Celaena worked together, I loved him so much. I loved the friendship he and Celaena shared and by the end of the book, their relationship also made me tear up with joy. (So. Emotional. I know.)
Chaol was not as much of a focus, but we see his struggle in finding where is allegiances lay. He was torn between his feelings of loyalty to his country, to his friends and doing what was right and just. I still love him and my heart still aches for him and his broken heart. I'm still cheering for him, but there's someone else who I'm starting to warm up to. 
Aedion was introduced in this book and is part of Celaena's past and soon to be future (I HOPE!!!). At first, I thought "who the hell is this emotionless, rude guy?" but then, when I got past that mask that he put on show and found his true motives and feelings, towards Celaena, his cousin that he loved so much, my heart melted for him. He's so determined, smart, a warrior and he's a fighter. I'm cheering for him to be reunited with Celaena, please let it be so!
Prince Dorian was seen much more in this book, and we got to see his development in dealing with his hidden power and his father and everything. I just love Dorian. He's perfect for a king. At the end of the book my heart broke for him as his heart was broken and I was also cheering for him as he finally unleashed, letting out all his anger and his fighting spirit. Let him fight for everything he believes in in Queen of Shadows!
I also really enjoyed Manon's story. It was a nice break away form all the action and seeing another side to the story. Some of her story brought me to tears (far out, I'm way too emotional) and I'm so glad her story was put in the book. 
As for the plot and it's development, it was not very fast-paced like it was in Crown of Midnight. But I don't think it's fair to compare the two books. Heir of Fire was unique to itself. It was slightly slow but this did it's job of causing the huge build up for Queen of Shadows. There were some awesome moments of action, but I wouldn't want this book to change in any way. The pacing allowed for me to learn so much more about the characters and to learn more of what the hell crazy stuff was brewing thanks to the evil king of Adarlan! 
Overall, this book fully deserves it's 5/5 star rating for continuing to be just as awesome, if not, better than the first two books in the series!
---
Thankyou all for reading my review! That will be all! If you have read this book, or are reading it, tell me what you think of it so we can discuss! If you haven't read it, tell me if you're planning to read the series and if this review helped you out! I always love feedback from you guys!
~ josiethebookworm xoxo