Book Chat | Isla and the Happily Ever After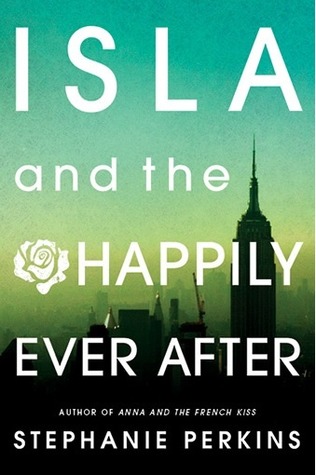 AUTHOR:

STEPHANIE PERKINS


GENRE:

CONTEMPORARY, ROMANCE


DATE PUBLISHED:

14TH AUGUST, 2014 BY USBORNE PUBLISHING


SERIES:

#3 COMPANION NOVEL


FORMAT I OWN:

PAPERBACK AND KINDLE


PAGES:

375


MY RATING:

4/5 STARS


BUY IT:

BOOK DEPOSITORY, AMAZON
BLURB:
The café is boiling. The atmosphere is clouded with bittersweet coffee.
Three years of desire rip through my body and burst from my lips: "Josh!"
His head jolts up. For a long time, a very long time, he just stares at me.
And then…he blinks. "Isla?"
Hopeless romantic Isla has had a crush on brooding artist Josh since their first year at the School of America in Paris. And, after a chance encounter in Manhattan over the summer break, romance might be closer than Isla imagined. But as they begin their senior year back in France, Isla and Josh are forced to face uncertainty about their futures, and the very real possibility of being apart.
Set against the stunning backdrops of New York, Paris and Barcelona, this is a gorgeous, heart-wrenching and irresistible story of true love, and the perfect conclusion to Stephanie Perkins's beloved series.
(Blurb is from Goodreads)
---
My Review
Hello bookworms! I'm here today with a review of Stephanie Perkin's third book in a companion romance trilogy, Isla and the Happily Ever After. I thought this book was an absolutely wonderful, cute, adorable contemporary romance novel that made me smile and fall in love and also broke my heart and mended it back together with romance! It's a light and fun read for anyone looking for something to get them out of a slump or just to read an extremely cute romance!

This book was quite fantastic. Initially, the beginning to me was kind of strange. Everything was a little crazy and all over the place. It reflected how light-headed and out-of-it that the main character, Isla, was but either way it caught me off guard but Perkins also throws you right into the story through this chapter without any unnecessary parts. The characters we great, I could connect with Isla and I found her super adorable. I loved Josh; artistic and dedicated, knows what he wants to do with his life, is quite introverted… I might have kind of fell in love with him too, a bit. Stephanie Perkin's writing style is also really great. It's easy to read but it also isn't too simple. It's beautiful and it captures – in my opinion – the romance of this book well. The plot was great, and it made me gasp. As much as I would have liked it to be a happy ending from start to finish, I'm glad for the twists and horrible turns that happened as they captured the real idea of a relationship.
The characters were great and I could really connect and relate to them. Isla is so adorable. She is girly and has an undying, incredible crush on Josh, the cute artistic guy who goes to her school. The way she acts around Josh is so cute. She is so nervous and exhilarated and it made me smile because the way she acted and felt is somewhat similar to what I would do in her situations.
Josh was wonderful. He is introverted, which I love. But as well as being quiet, he has a great personality. He is funny and mischievous. He is a talented drawer, and guys who draw – I think that's a turn on for me (then again, I have quite  a lengthy lost of attributes about guys that I particular like).
Kurt was a good character too. It's so cool to have a guy like Kurt, who has autism to be included in a book like this. I really liked Kurt, he was a diverse character and he was lovable too!

The plot was great. I felt it was quite fast-paced especially in the development of Isla and Josh's relationship. But I guess if you've had a crush on someone for years, you would jump straight into a relationship with them. Most of the book follows the development of their relationship and all the cuteness of their relationship. Then things start to get complicated. Isla gets more insecure and nervous about some things with Josh and then there's a bunch of twists that broke my heart – my heart broke because I felt so horrible for what happened to Josh and Isla. In the end, I was tearing up because it was so  damn cute and definitely a happily ever after! (See what I did there? *wink wink*)
---
 So that is all for this book chat! Hope you enjoyed and please tell me what you thought of this book and if you plan to read it! I always love hearing your feedback so don't be shy!
~ josiethebookworm xoxo