Book Chat | Throne of Glass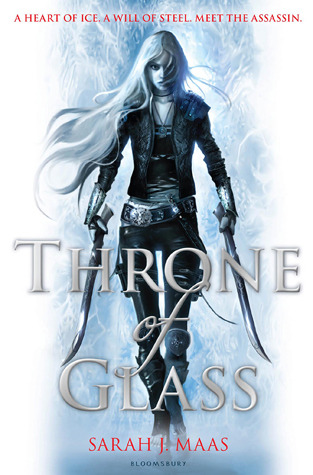 AUTHOR: 
SARAH J. MAAS
GENRE: 
YOUNG ADULT, FANTASY
DATE PUBLISHED:
AUGUST 2ND, 2012 BY BLOOMSBURY
SERIES: THRONE OF GLASS #1

FORMAT THAT I OWN: 
KINDLE – AND SOON, PAPERBACK
PAGES: 
404 PAGES
MY RATING: 
4.5 OUT OF 5 STARS
BUY IT: BOOK DEPOSITORY, AMAZON
Blurb:
Meet Celaena Sardothien.
Beautiful. Deadly.
Destined for greatness.
In the dark, filthy salt mines of Endovier, an eighteen-year-old girl is serving a life sentence. She is a trained assassin, the best of her kind, but she made a fatal mistake: she got caught.
Young Captain Westfall offers her a deal: her freedom in return for one huge sacrifice. Celaena must represent the prince in a to-the-death tournament—fighting the most gifted thieves and assassins in the land. Live or die, Celaena will be free. Win or lose, she is about to discover her true destiny. But will her assassin's heart be melted?
(Blurb is from Goodreads)
---
My Review:
Hello bookworms! I'm here to share my thoughts on Throne of Glass by Sarah J Maas! I am so glad to have finally ready this. I had high hopes for this book, and being a lover of fantasy, I really expected this to be a good one. And it won me over. I loved it and gave it 4.5 out of 5 stars. If you want to know why, keep on reading!
There were so many things I liked about this book. From the very beginning – the very first chapter – I was into it. It was very easy to jump right into the book, and it didn't take me long to connect with the story or the characters. I love Sarah J. Maas' writing style. It is poetic and wonderful, perfectly fitting the story of the novel and the world that it is set in. I also love her writing because, despite the fact that she has written in third person, I could connect with the characters so easily! So let's talk about the characters, because they were a highlight for me…
Celaena is awesome. She is the main character in this novel and the most epic assassin. From the beginning, she was such an awesome character. She is strong-willed, independent, headstrong, sarcastic, witty, a little violent and totally hilarious and bad-ass. She is such a skilled assassin, and I think that's why I loved her so much. Her personality perfectly fit her occupation and deep inside my heart, there is a yearning for me to be like her. I want to be an awesome, strong, female assassin! Her conversations with people are absolutely entertaining and I found myself smiling and laughing most of the time when she spoke. Especially when she conversed with Prince Dorian.
Prince Dorian was a character I wasn't sure of at first. I anticipated him to be a stuck up, arrogant princely character, but I was totally wrong. He is extremely charming in my opinion. He and Celaena had such entertaining banter with each other, they joked and teased and connected so well. Dorian is kind and considerate and reading the way he came to think of Celaena made my heart squeeze and tingle. However, there was a slight problem… (a good problem, however).
Chaol, the Captain of the Guard. My goodness. He is adorable. At first, he appeared so stern, and just completely un-interested with Celaena, and only wanting to do his job. It was a slow development, but this was what brought me to love him so much by the end of the book. His relationship with Celaena was fantastic. They didn't really connect at first, and Chaol would be 99% of the time, growling and scowling at her. But there was an obvious growing friendship between them, that by the end of the book was so obvious, and I loved Chaol by the end. He is so loyal, dedicated, absolutely adorable and sweet. 
Let's talk of the romance. There was a love triangle in this book. I really loved this love triangle. It was by no means irritating or overwhelming. It didn't overtake the entire story line of the book. It was subtle, fun and adorable and I found myself torn between the two male characters that were involved with Celaena. (Is it right for me to speak of their names? Or is that a spoiler?) I won't go into great detail, but I was equally cheering for both guys, and I could not decide who was the better match! I was in love with both of the romances Celaena was involved in, the obvious one, and the very subtle, but growing one. But since reading Crown of Midnight, which I started today, I'm starting to favour the subtle relationship more! 
Last but not least, the plot and the world. I loved the world in which Maas has created. There's not much world building, but I can see it in my mind! I love how there's a magical element and the Fae intertwined within the world and the story. I LOVE when a book has magic involved. The magic aspect grew steadily throughout this book and the plot was so mysterious. I love how as the book progressed, the plot slowly built up more and more until the end, where there is so much mystery and magic and craziness intertwined together and it left me wanting to dive right in to Crown of Midnight. I actually stayed up until 1am reading this book, and it was so worth it once I had finished it. I have started Crown of Midnight now, and I am 117 pages in and absolutely loving it. 
---
SO THAT IS IT FOR MY BOOK CHAT FOR TODAY! I HOPE YOU ENJOYED IT AS MUCH AS I ENJOYED WRITING IT. PLEASE COMMENT DOWN BELOW IF YOU HAVE READ IT AND TELL ME YOUR THOUGHTS ON IT. IF YOU HAVEN'T READ IT, PLEASE ALSO COMMENT DOWN BELOW IF YOU THINK YOU ARE GOING TO PICK UP THIS BOOK! I ALWAYS LOVE HEARING YOUR FEEDBACK. 
~ josiethebookworm xoxo